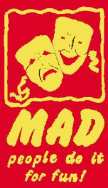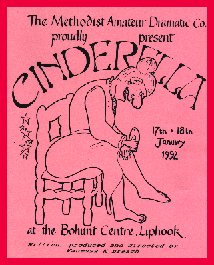 CINDERELLA
Cinderalla was the M.A.D. Company's first pantomime and was staged at Bohunt Community Centre on Friday 17th and Saturday 18th January 1992.
---
Hello, and a special magical welcome to Ye Olde Lyphooke Village for a unique production of everyone's all time favourite pantomime, Cinderella . Hearty greetings also from everybody in The M.A.D. Company (Methodist Amateur Dramatics), a brand new company based around the Methodist Church in Liphook.
If you enjoy watching our show, as much as we have enjoyed rehearsing for it, then it will have been a great success. We hope that you will play your part in the show, creating a real chaotic pantomime atmosphere.
The costumes, scenery, lighting and ancillaries have all been created by Liphook folk, proving once again what immense talent there is within our village.
Money raised from the production will be used to help both local charities and church projects. So sit back and enter into the magical world of pantomime, and above all, enjoy yourself.
Revd Phil Thomas (Thomasina)
Co-founder of Methodist Amateur Dramatics
---
Everybody knows the Fairy Tale story of Cinderella, but you may notice a few changes in our version. Set in our own village, we hope that you will enjoy our interpretation of this delightful tale.
Cinderella's mother died when she was very young, leaving her and her father, Baron Breadline, alone in the world. As his business failed, they became penniless and rather than send his daughter to the workhouse, Baron Breadline married a rich, title-hunting widow whose one aim in life is to marry off her daughters to Royalty.
Cinderella is hated by her step-mother and step-sisters and treated like a slave.
She is doomed to a miserable life until one day ....
| | | | |
| --- | --- | --- | --- |
| ACT I | | ACT II | |
| Scene 1 | Lyphooke Village Square | Scene 1 | The Palace Ballroom |
| Scene 2 | Baron Breadline's Kitchen | Scene 2 | Lyphooke Village Square |
| | | | Finale |
Top of Page
---
| | | | |
| --- | --- | --- | --- |
| | | | |
| Baron Breadline | Eric Mosley | Baroness Breadline | Janet Mosley |
| Thomasina Breadline | Phil Thomas | Brucilla Breadline | Derek Bruce |
| Cinderella | Jo Evans | Buttons/Lord Standforde | Vanessa Breach |
| Stan the Tout | Paul Gibbs | Fairy Godmother | Jo Raggett |
| Prince Charming | Jackie Bruce | Neigh-omi (horse) | Julie O'Gara, Chris Salter |
| Fairy | Rebekah White | Herald | Rebekah White |
Ponies
Emily Courtnage, Bethany Breach, Claire Carrig, Kate Williams
Soldiers
Carron Campbell, Tina Harrison, Joanna Wilson, Erin Martin, Catherine Bruce, Emily Thomas
Villagers & Guests
at the Ball
Jackie Bruce, Kathy Carrig, Alison Ellis, Andrea Gibbs, Debbie Merrick, Rebecca Mosley, Julie O'Gara, Jo Raggett , Chris Salter, Tanya Woods
Children
Bethany Breach, Catherine Bruce, Rachel Bruce, Carron Campbell, Colin Campbell, Claire Carrig, Alice Courtnage, Emily Courtnage, Adam Coyte, Helen Coyte, Anna Hall, Tina Harrison, Erin Martin, Stephanie Martin, Emily Thomas, Ben Thomas, Deborah White, Rebekah White, Kate Williams, Richard Williams, Joanna Wilson, Penny Wilson, Nathan Woods
| | |
| --- | --- |
| Piano | Phil Richards |
| Guitar | Grahame Polley |
| Drums | Ian Gowers |
Choreography
Jo Evans ,Vanessa Breach
Scenery
John Courtnage
Lighting/Effects
Kevin Carrig, Kevin Merrick
Wardrobe
Monica Church, Julie Wilson, Sue Dew, Mary Coyte
Make-up
Maureen Martin, Katy Ramage
Props/Continuity
Carol Barratt
Back Stage
Ray Breach, John Courtnage, Billy Martin, Tim Wilson
Front of House
Dennis Drysdale, Gilbert Church
Script Typing
Jackie Bruce
Programme Layout
Derek Bruce
Publicity
Julie O'Gara
Poster Design
Debbie Merrick, Louise Heywood
Tickets
Jo Raggett
Ticket Sales
Billy Martin, Phil Thomas & Coytes
Refreshments
Sue Knight & Friends
Top of Page
---
| | |
| --- | --- |
| Vanessa Breach | A seasoned, young and talented pantomime performer born in Haslemere. Would do it again! |
| Jackie Bruce | A touch of Scotch, a bit of bubble, tall & thin, nearly what you might call class |
| Derek Bruce | Despite the character assassination, he really is tall, dark and handsome!! |
| Paul Gibbs | Has tried acting before despite the crooked neck and character! Any offers? |
| Eric Mosley | 'Wot's up like' Eric has to contend with his real life wife acting a knifing wifey! |
| Janet Mosley | Janet hopes that 'Breadline' won't become an economic reality - work harder Eric! |
| Julie O'Gara | Has acted as a heghehog before, but now a horse? Looking for a stablemate! |
| Jo Raggett | Magical Jo, even though she works as a bank clerk, is still tight with money magic! |
| Chris Salter | Always behind, Chris' rounded face is there for all to see. Homeopathic remedies do work! |
| Phil Thomas | Acts - Biblical or dramatic? Advised, due to ugliness, to stick to the Bible! |
| Jo Evans | Cinders has one burning ambition; to run her own nursery. Is this her chance? |
| Rebekah White | Angelic? Ask her mum !! |
Top of Page
---
Cinderella was published in France by Charles Perrault in 1697 with several other stories (including Sleeping Beauty, Red Riding Hood, and Bluebeard) in his book Histoires ou Contes de temps passes.
Perrault's story, probably derived from several sources, was called Cendrillon ou La petite pantoufle de verre and included the fairy godmother, the wicked step-mother, the Prince's ball, the midnight deadline, the lost slipper and the pumpkin, mice, rats and lizards who become the coach, horses, driver, and footmen.
It was incorporated in Jakob & Wilhelm Grimm's collection of mainly German folk-tales ( Kinder und Hausmarchen) published in Kassel in 1812 where Cinderella was called Aschputtel. Perrault didn't have Snow White or Rapunzel - the Grimms did.


La Cenerentola
Some of you may have seen Rossini's opera La Cenerentola. This was first performed in the Theatro Valle in Rome on 25 January 1817 but includes none of the magic elements from Perrault's story. This is largely due to the pressures on composers at the time. Rossini moved between Rome and Naples to stage the first performances of no less than 6 operas between October 1815 and the premiere of La Cenerentola. Indeed, a month before the opening night the subject was only just decided and in that month the score had to be written and copied by hand, the cast chosen and rehearsed and the staging designed.
Rossini replaced the glass slipper with a pair of bracelets, and Angelina (the Cinderella character) is escorted by the tutor to Prince Ramiro who arrives dressed as a beggar and is treated kindly by Cinderella.
The prince and his footman disguised as each other toy with the attentions of the two sisters of Cinderella, Tisbe and Clorinda at the ball until Cinderella appears and wins the prince's heart.
The prince and the valet play the same game with Cinderella but she loves the prince (dressed as the valet) and is not tempted by the supposed power and wealth of the valet (disguised as the prince).
Cinderella leaves promising the prince that if he finds her and still loves her when he knows her true status, she will be his.
| | |
| --- | --- |
| Ramiro : | What, not even all his fortune |
| | Can tempt you any longer ? |
| | |
| Cinderella : | Though riches glitter bright, a loving heart is stronger. |
| | |
| | |
| Ramiro : | Then you'll give me your promise ? |
| | |
| Cinderella : | Slowly, remember |
| | You do not know me. |
| | First see if I am worthy |
| | And get to know my rank and station. |
| | |
| Ramiro : | I take you, |
| | Dearest, now and forever. |
| | |
| Cinderella : | Be silent. Let me leave you. This I entreat you. |
| | |
| Ramiro : | Do you dismiss me ? |
| | |
| Cinderella : | Take this bracelet, you'll recognise me |
| | When you find its companion |
| | On that day, if you still love me, I'm yours for ever. |

The final meeting between the pair as the prince searches for the girl with the bracelet is engineered by the prince's tutor Alidoro who causes the prince's coach to breakdown outside Cinderella's house and finally Cinderella finds that the man she loves is the prince after all, and not the valet. The step- sisters are then humiliated by the prince who throw their remarks about him dressed as the valet, back in their faces but finally at the wedding Cinderella forgives them and all are united in happiness.
Long the lane that has no turning....Tutto cangia a poco a poco
Love and kindness can't go wrong.....Cessa alfin di sospirar


Quotes from Arthur Jacobs English translation of Giacomo Ferretti's libretto. Other information from the English National Opera Guide to La Cenerentola.
---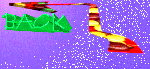 All pages are İMAD Productions 1997-2003
Email
5 February 2003