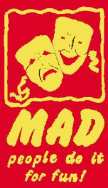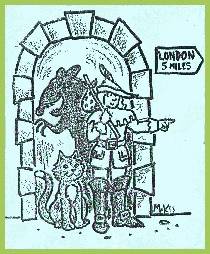 1994 Saw a new producer, Steve Tarpey taking over from Vanessa. The show was staged at Bohunt.
---
A warm welcome to you all from The MAD Company. We have now been in existence for three years and are based very firmly around the Methodist Church in Liphook. This is our third Pantomime - regulars will remember Cinderella in 1992, Aladdin in 1993 and this year is Dick Whittington, our biggest adventure to date. Previous MAD pantomimes have been written, produced and directed by Vanessa Breach but this year Steve Tarpey has taken over the production side.
Last year 'Aladdin' saw over a thousand people come through the doors, the majority from the village itself and has established us as a real community pantomime. Thank you for your support this evening, we hope that you will enjoy yourselves and leave with a smile on your face.
As a church community we are proud of what has been achieved, we hope you will see the Church in a new light. Christian faith is not just about Sunday but a community living, laughing and enjoying together - come and join us.
---
Dick Whittington stems from a 14th Century legend and gives The MAD Company the chance to visit the East End of London where we find ourselves overrun by a plague of rats. What chance will a simple farmer's lad from Gloucestershire and his friendly cat have against the evil King and Queen Rat?
Join Dick on his quest to rid the world of this scourge and win the hand of the lovely Alice Fitzwarren.
ACT I
ACT II
Scene 1
A Street in Cheapside in the East End of London
Scene 1
Highgate Hill
Scene 2
The Rats Lair
Scene 2
The Deck of the Pickled Herring
Scene 3
The Interior of Alderman Fitzwarren's Store
Scene 3
Under the Sea
Scene 4
The Shores of Morocco
Scene 5
The Rats Lair
Scene 6
The Harem in the Palace of the Sultan of Morocco
Scene 7
Big Ben
Scene 8
A Street in Cheapside in the East End of London
---
Dick Whittington, a country lad
Jan Treacher-Evans
Alderman Fitzwarren, owner of the stores
Glen Robertson
Alice, his daughter
Jo Raggett
Dame Sarah Suet, his English cook
Derek Bruce
Dame Cherie Trifle, his French cook
Phil Thomas
Captain Salmon of the "Pickled Herring"
David Jenner
First Mate Chips of the "Pickled Herring"
Julie Jenner
Sultan Pepper, the Sultan of Morocco
Mandy Godridge
El Daberry, a Moroccan Guard
Shelley Cozens
El Dabrother, a Moroccan Guard
Caroline Dove
Tom Cat, the magic cat
Jo Evans
King Rat
Steve Tarpey
Queen Rat
Jackie Bruce
Bert, brother of Fairy of the Bells
Vanessa Breach
Rat Pack
Kathy Carrig, Linda Rose, Rebecca White, Tanya Woods
Chorus (Londoners, Sailors and
Harem women):
Sue Calvert, Shelley Cozens, Caroline Dove, Andrea Gibbs, Mandy Godridge, Lesley McCarthey, Sue Peddar, Lisa Ross, Ruth Savage, Carol Selley, Edward White
Cockney Sparrers
Carron Campbell, Claire Carrig, Nia Clarke, Catherine Eyre, Callum Fowler, Emma Jones, Richard Jones, Katrina Rose, Andrew Savage, Emily Thomas, Deborah White, Joanna Wilson, Penny Wilson, Lydia Woods
Ratlings
Bethany Breach, Catherine Bruce, Rachel Bruce, Ben Calvert, Jonathan Calvert, Alice Courtnage, Emily Courtnage, Megan Courtnage, Ben Ellis, Ian Rose, Becca Selley, Ben Thomas, Joseph Watts, Laura Watts
Fairies
Rochelle Fowler, Roxanne Rose, Catherine Savage, Charlotte Selley, Hannah Tarpey
| | |
| --- | --- |
| Piano | Phil Richards |
| Guitars | Graham Polley, Julian Horlock |
| Drums | Ian Gowers |
Stage Design & Construction
Steve Tarpey, Brian Cozens, Matt Eagland
Scenery & Artwork
Tracy Evans, John Courtnage
Lighting & Effects
Kevin Carrig, Andy Woodage
Stage Manager
Ray Breach
Wardrobe
Maggie Tarpey & Monica Church, assisted by many friends and cast
Props
Alison Ellis, Margaret Nichols
Chorus Mistress
Shelley Cozens
Back Stage
Tracy Evans, John Courtnage, Mick Selley, Brian Cozens, Tim Wilson, Carol Barratt, James McCarthey, Phil Evans
Dressing Rooms
Jenny Courtnage, Mary Watts, Margaret Nichols, Maggie Tarpey, Norma White, Jeanette Finch
Front of House
Wendy Woods, Dennis Drysdale, Gilbert Church
Publicity
Julie Jenner
Poster Design
"Mik" and Margaret Nicholls
Ticket Sales
Phil Thomas
Refreshments
Sue Knight and friends
Written by
Vanessa K Breach
Produced by
Steve Tarpey
Directed by
Vanessa K Breach
---
He was an English merchant and Lord Mayor of London three times before 1423. According to legend he was a poor boy who gave his cat to a merchant to offer for sale. Ultimately the cat was sold for a fortune to a Morrocan ruler plagued by rats.
I wonder if he'd take my two ?
More info at Famous Gloucester People or the Museum of London
---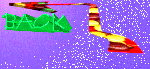 All pages are İMAD Productions 1997-2003
Email
5 February 2003