Sleeping Beauty was staged at Bohunt from Thursday 19th to Saturday 21st January 1995. A Saturday morning performance was added due to the demand for tickets in the previous three years.
---
A very Happy New Year from all at the Methodist Church and especially from the MAD Company. Once again we have thoroughly enjoyed preparing for this performance. Rehearsals began in September and a lot of hard work, sweat and tears has been put in by the actors and production team. Our talented director Vanessa Breach, has once again written and directed the pantomime.
Due to the success of the previous years, we have had to offer a morning performance. This means that record numbers will be attending this year, and we thank you for your support; it is of great encouragement to us.
So sit down, relax and enter into the magical world of pantomime.
Let us hope that the Sleeping Beauty falls in love with our handsome prince and we can all live happily ever after.
Revd Phil Thomas
---
This year we bring you our version of that beautiful Old Fairy Tale, Sleeping Beauty. We open to the Christening of Princess Sweetdreams, the long awaited daughter of the King and Queen of Sleepeezee.
As we wait for the Fairies to arrive and bestow their blessings upon the Royal baby, it seems that she is destined for a long and happy life. Surely nothing can go wrong, but wait...... Is that Fairy Nettle I can hear

ACT I

Scene 1 The Palace of Sleepeezee in the Year 1579
Scene 2 The next day. A footpath in the forest
Scene 3 Sixteen years later. A woodland glade outside Nanny Napalot's cottage
Scene 4 That evening. A footpath in the forest
Scene 5 Later that evening. The Palace of Sleepeezee

ACT II
Scene 1 A year later. A woodland glade outside Nanny Napalot's cottage
Scene 2 Ninety nine years later. A road to the Palace
Scene 3 The Palace of Sleepeezee

---
| | | | |
| --- | --- | --- | --- |
| | | | |
| Chuckles | Jackie Bruce | Queen Pillowslips | Alison Ellis |
| King Duvet | Arvid Woods | Spit | Glen Robertson |
| Polish | Shelley Cozens | Nanny Napalot | Phil Thomas |
| Fairy Daffodil | Steve Tarpey | Fairy Crocus | David Jenner |
| Fairy Tulip | Mick Selley | Fairy Nettle | Jan Treacher-Evans |
| Princess Sweetdreams | Jo Evans | Prince Valence | Jo Raggett |
| Count Apane | Kathy Carrig | Spirits | Louise McElhatton, Rebekah White |
Palace Staff
Sue Calvert, Carron Campbell, Colin Campbell, Kathy Carrig, Caroline Dove, Jackie Fowler, Mandy Godridge, James McCarthy, Lesley McCarthy, Louise McElhatton, Carol Selley, Edward White, Rebekah White, Tanya Woods
Palace Maids, Fairies
& Village Children
Bethany Breach, Catherine Bruce, Claire Carrig, Nia Clarke, Alice Courtnage, Emily Courtnage, Megan Courtnage, Rochelle Fowler, Gina Hughes, Hayley Hughes, Clare McCarthy, Katherine Savage, Charlotte Selley, Becka Selley, Hannah Tarpey, Emily Thomas, Deborah White, Joanna Wilson, Penny Wilson, Sally Wilson, Lydia Woods
| | |
| --- | --- |
| Piano | Phil Richards |
| Guitars | Grahame Polley, Julian Horlock |
| Drums | Ian Gowers |
| | | | |
| --- | --- | --- | --- |
| Production Assistant | Jackie Bruce | Stage Manager | Ray Breach |
| Backstage Crew | Tracy Evans, Phil Evans, John Courtnage, Peter Whitlock | Chief Technician (Light/Sound) | Kevin (Sparks) Carrig |
| Lighting Crew | Andy Woodage, Nathan Woods | Scenery & Props | Tracy Evans, Terry McCarthy |
| Junior & Adult Chorus Wardrobe | Ruth Savage & Friends | Principals Wardrobe | Alison Ellis, Monica Church, cast & friends |
| Chorus Mistress | Carol Selley | Continuity Lady | Linda Gibbs |
| Refreshments | Sue Knight & Friends | Front of House Manager | Mary Watts |
| Treasurer | Dennis Drysdale | Dressing Rooms/Make-up | Jenny Courtnage, Julie Wilson, Margaret Nicholls, Julie Jenner, Norma White |
| Secretary/Publicity Officer | Alison Ellis | Poster Designer | Margaret Nicholls |
---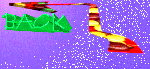 All pages are İMAD Productions 1997-2006
Email
29 December 2005