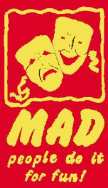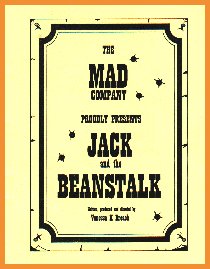 JACK AND THE BEANSTALK

Jack and the Beanstalk was staged at Bohunt from Thursday 25th to Saturday 26th January 1996 and was the first with a full photographic record. I turned up in October 1995 intending to photograph the principals and come back for the Dress Rehearsals in January, but I got hooked.
It's not that the rehearsals are funnier than the performance, although some rehearsals are a performance in their own right, but since early in the 1996-7 season I've had the 'coffee making at rehearsal' job so I have to be there!
---
Dear Friends,
The MAD Pantomime has become something of a Liphook tradition This is now our fifth production and for the second year running we have had to put on a extra performance due to the demand for tickets.
I would like to thank you, the Audience, for your enthusiastic support of our efforts. There would be no pantomime without you. Those of you who have been here before will know that you are very much a part of the whole show.
Vanessa Breach has written and directed this Pantomime, indeed she has been a driving force of our Company for all of our five years. The cast as in previous years have enjoyed themselves rehearsing for this Pantomime.
We are almost all connected with the Methodist Church and this makes for a very special friendship between us and I hope that when you see it, this performance will show you a rather different side of th church and its people.
So sit back and be prepared for a few surprises, lots of laughs, and maybe a wet sloppy kiss if you are sitting in the wrong seat!
Yours MADly
Rev. Phil Thomas
Chairman of MAD
---
Everyone knows the story of Jack and the Beanstalk ..... or do they ?
Join Jack and his friends as they journey through the Wild West trying to make their fortune and outwit the evil Black Mac. As well as the traditional elements, there may be a few surprises so keep your eyes open.
And watch out for that GIANT. Rumour has it that he eats people, you know !
ACT I
ACT II
Scene 1
Widow Goldtop's Ranch
Scene 1
Widow Goldtop's Ranch One month later
Scene 2
A pathway near Widow Goldtop's Ranch
Scene 2
The Milking Shed in Widow Goldtop's Ranch
Scene 3
On The Prairie
Scene 3
The Hall in Giant Gizzard Gobbler's Castle
Scene 4
A pathway near Widow Goldtop's Ranch
Scene 4
A pathway near Widow Goldtop's Ranch
Scene 5
Widow Goldtop's Ranch
Scene 5
Widow Goldtop's Ranch
Scene 6
A pathway near Widow Barleycorn's Ranch
Scene 7
The Hall in Giant Gizzard Gobbler's Castle
Scene 8
A pathway near Widow Goldtop's Ranch
Scene 9
Widow Goldtop's Ranch
---
The Chickentails
Vanessa Breach, Lesley McCarthy, Liza Ross, Tanya Woods
Batman
Maggie Tarpey
Robin
David Jenner
Cowfolk, Ghosts,
Skeletons,
& Mummies
Sue Calvert, Kathy Carrig, Gillian Charles, Shelley Cozens, Caroline Dove, Jan Treacher-Evans, Jackie Fowler, Mandy Godridge, David Jenner, Emma Jones, Lesley McCarthy, Jo Raggett, Polly Rhodes, Alison Robertson, Liza Ross, Ruth Savage, Carol Selley, Tanya Woods.
Ranch Children,
Indians
and Gnomes
Bethany Breach, Rachel Bruce, Catherine Bruce, Claire Carrig, Adam Ellis, Roschelle Fowler, Gina Hughes, Hayley Hughes, Clare McCarthy, Edward Rhodes, Katherine Savage, Charlotte Selley, Becka Selley, Hannah Tarpey, Emily Thomas, Deborah White, Sally Wilson, Penny Wilson, Joanna Wilson, Kate Williams, Lydia Woods
Piano
Phil Richards
Guitars
Grahame Polley, Julian Horlock
Drums
Ian Gowers
Photo
Production Assistant
Jackie Bruce
Choreography
Vanessa Breach
Stage Manager
Ray Breach
Backstage Crew
Tracy Evans, Phil Evans, Martin Petersen, Steve Tarpey, Carol Barratt, James McCarthy
Chief Technician (Light/Sound)
Kevin (Sparks) Carrig
Lighting Crew
Andy Woodage, Oliver Woodage, Nathan Woods
Scenery & Props
Tracy Evans
Junior & Adult Chorus Wardrobe
Ruth Savage, Nan Selley & Friends
Principals Wardrobe
Alison Ellis, Monica Church, Wendy Evans, Jane Gray, Cast & Friends
Chorus Mistress
Carol Selley
Continuity Lady
Linda Gibbs
Refreshments
Sue Knight & Friends
Dressing Rooms/Makeup
Christine Williams, Julie Wilson, Julie Jenner, Monica Church
Front of House
Denis Drysdale & Friends
Treasurer
Mary Watts
Publicity Officer
Carol Selley
Secretary
Alison Ellis
Poster Design
Margaret Nicolls
Photographer
Brian Simmons
Programme Design
Lesley McCarthy
Post Production Facilities
Mick and Carol Selley
---
Click on the little pic to get a bigger pic.
All the pictures have a way back.

Horrible !
The Widows
Black Mac's Arrest
We're Rich !
You lily livered son of a snake
Black Mac calculates the rent
Widow Goldtop
Chief Sleeping Bear & Widow Barleycorn
The Chickentails
Widow Barleycorn has one of her turns. She's not a well woman, you know
Spare Us !
What a sight
At the barbeque
A Farmhand
The Widows at the barbeque (Act 2), - when they've got the money .... or not
Black Mac making up
The Widows at the barbeque (Act 2), - when they've got the money .... or not
Batman & Robin
Jemima
Jack Goldtop
The Adult Cast
The Teamaker
---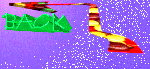 Top of Page
All pages are İMAD Productions 1998-2009
Email
26 December 2005