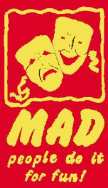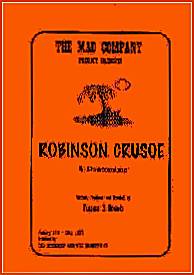 ROBINSON CRUSOE

Robinson Crusoe was performed at Bohunt on Friday 17th and Saturday 18th January 1997 with a invitation preview on the 16th and was Phil Thomas's farewell performance.
After the last performance, a special 'oscar' was presented to Phil by Vanessa in recognition of all his work over the previous six years.
---
Welcome one and all to the M.A.D. production of Robinson Crusoe. I hope you have brought your sea legs with you, as much of the action takes place on board ship, and watch out for evil pirates, not to mention man eating cannibals. It promises to be an action packed evening, and you will have to play your part in helping Robinson and his friends find the treasure.
This is now M.A.D's sixth production. The major performances continue to be a sell out and the company seems to go from strength to strength.
Success does not come without a good deal of hard work, and I wish to pay tribute to our director Vanessa Breach. She has written all of our pantomimes, and it is her talent, enthusiasm and leadership that ensure success.
As most people know, I will be leaving Liphook in August 1997, this will therefore be my last pantomime. It will break my heart not being able to be involved next year, we are a close knit group, many of us sharing in church life as well, I want to thank them all for the fellowship and fun over the years, and this year especially for putting up with my less than wholehearted commitment to rehearsals. As a Minister I have tended to have a high profile in pantomime publicity and praise, this hides the truth, the real work is done by others, their names appear in this programme. They are an immensely talented group of really nice people, and knowing this means that the future of the company is guaranteed for many years to come.
Anyway, enough emotional heavy stuff Let us concentrate on the magic of pantomime and the age old theme of good conquering evil, Robinson Crusoe v Captain Blackheart. And don't forget the only hope Robinson has is if you help him, he wants to hear plenty of noise from you, because he is up against the most dashing, intelligent, sophisticated and evil character I have had the misfortune of knowing!
Enjoy
Philip Thomas
Top of Page
---
This year we travel across the oceans and visit distant shores to bring you the story of Robinson Crusoe - well - our story of Robinson Crusoe There are many versions of this famous tale and this is a combination of all of them. with a large slice of our own imagination thrown in for good measure. You may recognize some of the routines in this year's production, some of them go back to music hall days. I make no apology for using them and hope you find them as funny today as many others have over the years.
Vanessa
Act I
Act II
Scene 1
The London Docks
Scene 1
A Desert Island
Scene 2
The Poop Deck
Scene 2
A pathway in the Jungle
Scene 3
The Deck of the Ship
Scene 3
The Temple of the Sacred Snake
Scene 4
Glitter Land
Scene 4
Finale
Scene 5
Under the Sea
---
| | |
| --- | --- |
| Ladies | Sue Calvert, Kathy Carrig, Mandy Godridge, Angie Pawlyszyn, Carol Selley, Mary West, Rebekah White. |
| Sailors/Pirates | Tony Bowers, Kathy Carrig, Ian Darnbrook, Nigel Holmes, Lesley Mccarthy, Maggie Tarpey |
| Children | Catherine Bruce, Rachel Bruce, Claire Carrig, Ben Ellis, Roschelle Fowler, Judith Holmes, Clare Mccarthy, Emma Michaelson, Katherine Savage, Rebecca Savage, Charlotte Selley, Becky Selley, Hannah Tarpey, Emily Thomas, Deborah White, Kate Williams, Joanna Wilson, Sally Wilson, Lydia Woods. |
Piano
Phil Richards
Guitars
Grahame Polley, Julian Horlock
Drums
Ian Gowers
Photo
Director
Vanessa Breach
Production Assistant
Jackie Bruce
Choreography
Vanessa Breach, Jo West and Sue Morgan
Stage Manager
Ray Breach
Backstage Crew
Tracy Evans, Phil Evans, Martin Petersen, Dave Evans, Carol Barratt, James McCarthy, Oliver Woodage.
Chief Technician Light/Sound
Kevin (Sparks)Carrig, Matthew Carrig
Lighting Crew
Andy Woodage, Nathan Woods
Scenery & Props
Mick Selley, assisted by Phil Evans, Tracy Evans, Jo West, Brian Simmons, Cast and Families.
Wardrobe
Vanessa Breach and Nan Selley assisted by Mary West, Wendy Evans, Alison Ellis, Carol Selley, Ruth Savage, Monica Church, Jenny Adams & Cast.
Chorus Mistress
Carol Selley
Continuity Lady
Linda Gibbs
Refreshments
Sue Knight & Friends
Dressing Rooms
Ruth Savage, Amanda Gowers,
Children's Dresing Rooms
Christine Williams, Suzanne Battensby, Sharon Anderson, Julie Wilson.
Adult's Dressing Rooms
Norma White, Julie Jenner
Front Of House
Denis Drysdale, Mary Watts & Friends
Treasurer
Mary Watts
Publicity Officer
Carol Selley
Secretary
Polly Rhodes
Photographer
Brian Simmons
Poster/Programme Design
Lesley McCarthy
Producer
Vanessa Breach
Post Production Facilities
Mick and Carol Selley
Top of Page
---
Click on the little pic to get a bigger pic.
All pictures have a way back.

Cassandra Crusoe
The Doll
Blackheart & Chrissie
Cassandra Crusoe - on board ship
Cassandra and the Captain
It do be ...
Mop Drill
Dreaming
Busy Bee
The Attack
Untie Me !
Spirits of Evil ...
Chief Wottawoppa
Safety Pin
Cassandra Crusoe and the Gorilla
Robinson & Lucy
The Wedding
The Other Wedding
The Adult Cast
A rest
Wig rehearsal
---
The original Robinson Crusoe, and the inspiration for Daniel Defoe's 1719 book was Alexander Selkirk born in 1676 in Largo, Scotland to a shoemaker. He ran away to sea in 1695 joining a band of buccaneers. While working as a sailing master in 1704 he rowed with the ship's captain and asked to be put ashore.
He was left on the uninhabited island of Mas a Terra (also known now as Robinson Crusoe Island). This is in the Juan Fernandes island group 400 miles west of Valparaiso in Chile.
He was picked up again in February 1709 by a British ship under the command of Woodes Rogers and arrived back in England more than two years later in October 1711.
The description of Selkirk's life on the island was included by Rogers in his book Cruising Voyage Round the World and this and similar publications were used by Defoe.
Selkirk went back to sea where he died on 12 December 1721.

For more information, visit a Juan Fernandez Islands site with lots of links or Vision Chile - lots of pictures

Or read the excellent account of Selkirk's life in Selkirk's Island by Diana Souhami (published in paperback in 2001 by Phoenix, ISBN 0-75381-334-3, winner of the 2001 Whitbread Biography award).

Top of Page

---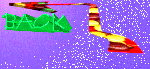 All pages are İMAD Productions 1997-2006
Email
20 December 2005