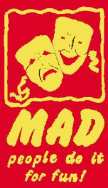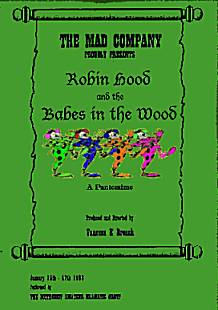 ROBIN HOOD &
THE BABES IN THE WOOD

Robin Hood and the Babes in the Wood was staged at Bohunt on Friday 16th and Saturday 17th January 1998 with the preview for local groups on Thursday.

---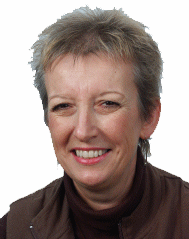 On behalf of the M.A.D. Company I would like to wish you all a very happy and prosperous New Year and welcome you to our 7th annual Pantomime- Robin Hood and the Babes in the Wood. Based on a combination of two medæval legends, we have used, this year, a large slice of 'Pantomime licence' to take you from Nottingham, to the moon, and back again. Our brave hero Robin Hood, is going to need plenty of encouragement to save the babes from the evil Sheriff of Nottingham, and win the hand of the beautiful Maid Marion, so we need your help. We have been rehearsing for months now and having a great time, but we want to make sure that you have a great time too. So sit back and relax, but don't forget to join in with the cheers, the boos, and the hisses!

"Ladies and Gentlemen, The circus is coming to town .....!!"

Best wishes
Vanessa Breach, Chairman
---
| | | | |
| --- | --- | --- | --- |
| Act I | | Act II | |
| Scene 1 | A sunny day in Old Nottingham | Scene 1 | On the Moon |
| Scene 2 | A pathway to the Forest (Sheriff, Del & Rodney) | Scene 2 | A pathway to the Forest (The Wishing Fairy) |
| Scene 3 | A Clearing in Sherwood Forest | Scene 3 | A Clearing in Sherwood Forest |
| Scene 4 | A pathway to Nottingham (Dreammaker) | Scene 4 | A pathway to Nottingham |
| Scene 5 | Old Nottingham (The House Song) | Scene 5 | Old Nottingham - the Archery Tournament |
| | | Scene 6 | Finale |
---
Children
Blair Anderson, Bethany Beach, Catherine Bruce, Rachel Bruce, Clare Carrig, Ben Ellis
Paul Gowers, Clare McCarthy, Emma Michaelson, Deborah White, Charlotte Selley, Becka Selley
Aaron Treacher-Evans, Megan Treacher Evans, Kate Williams, Hannah Tarpey, Joanna Wilson, Penny Wilson, Sally Wilson
Katherine Savage, Rebecca Savage, Megan Courtnage, Emily Courtnage, Alice Courtnage
Technical and backstage and others will be added soon.

---
Click on the little pic to get a bigger pic.
| | | | | | |
| --- | --- | --- | --- | --- | --- |
| Del and Rodney pitch to the people of Nottingham | | Silence ! | | Oh, Marion .... | |
| Sherwood Forest here we come | | | | The Sheriff gets at Del and Rodney | |
| Will Scarlett comforts Maid Marion | | Nurse Quiver | | Men in tights | |
| | | | | The Sheriff spurns Nurse Quiver | |
| The announcement | | the prize is ... | | Little John | |
| Del & Rodney | | The Circus | | The Dancing Girls | |
| | | | | | |
| | | Nurse Quiver | | | |
---
Many people thought we'd struggle this year after we'd lost Phil who moved to a new church in Camberley, and also Nigel who moved to Skelmersdale (and of course Judith and Emily). Some people thought we'd just fade away. Some didn't come because Phil wasn't in it. So everyone worked a bit harder. The sets and the scenery were better than last year, the costumes were wonderful, the colour was just stunning, the acting and the singing was terrific and the whole performance went brilliantly.
And did people come ? Yes - Saturday afternoon and evening were both sold out and was in fact was our biggest audience ever.
Not having Phil and Nigel could have been a problem but it just showed the amount of talent there is in the company. Everyone gave 110% and ensured that the show did go on.

Thursday preview performance
You don't really know how good the panto is going to be until you perform it with an audience - you can practice all the lines but you can't practice the 'Oh No I'm Not !' routine until you've got a hall full of people.
Well, Thusday we had a hall full and they loved it. Look behind you's and Oh Yes and Oh No by the bucketful. You could tell they knew what to do, in fact some were so eager they were dancing to the background music before we started, and one was on stage!
Steve turned his Sheriff up another gear to be really menacing and stuck up a great rapport with the audience (I think some may have even been cheering him .... maybe we need to rehearse some of the audience in booing baddies!).
The costumes - reds and yellows and purples looked stunning and everyone sang beautifully especially the children. The scenery worked really well, and the spaceship with full effects for the first time looked like it could really fly.
Postman Pat had all the little ones clamouring to shake his hand and stroke his cat.
Friday started a little slow but Steve soon had the audience going, and Saturday afternoon and evening were both full houses and there was a great atmosphere.
It was a really good couple of days, if you were there you had a night to remember, if you weren't, then book early for next year because it's going to be another great show.

---
All pages are ©MAD Productions 1997-2003
Email
7 February 2003