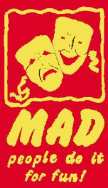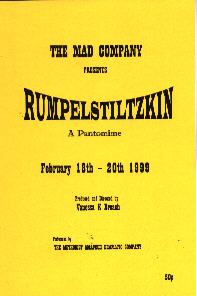 RUMPELSTILTZKIN
Rumpelstiltzkin was staged at Bohunt from Thursday 18th to Saturday 20th February 1999.
---
A very warm welcome to you all, and many thanks for supporting our new venture into "Panto in February".
For our eighth production we have chosen the story of Rumpelstiltzkin. No, it's not the one about the Princess who lets down her long hair, that's Rapunzel. This one's about.... well, why don't you sit back and relax, while we take you somewhere west of Liphook, where the grass is green and the custard is creamy. Please join in the fun as we present to you the story of Rumpelstiltzkin.

---
Our story is set in the village of Caramel in the Kingdom of Butterscotch. The Kingdom is ruled by King Marzipan and his sister, the bossy Queen Madeline.

The King's son, Prince Florentine, is in love with Victoria, the daughter of Dame Eccles, the mill owner with a penchant for men's trousers. And of course Victoria loves Florentine.
Needless to say the kingdom is bankrupt and the Queen wants Florentine to marry someone rich. When the King and Queen visit the village to demand that Victoria stops chasing after Florentine, Dame Eccles is so riled that she boasts Victoria could make gold out of straw and so the Queen decides to put her to the test.

Of course with all the straw collected to make gold, there's none left for poor old Buttercup! So the king gives the Kingdom's last five gold pieces to Farmer Scrumpy to buy some straw from the Kingdom of Battenburg because although Butterscotch is covered in grass, we all know you can't buy straw with grass!

Shut in the castle cellar, Victoria is suprised by Rumpelstiltzkin - it is he that has stolen all the gold from the King and Queen and made the kingdom so poor.
Victoria asks him to help her turn the straw into gold and he eventually agrees but asks for three precious things in payment. Victoria only has a ring that Florentine has just given her and a necklace of her grandmother's so he takes those and promises to return in a year for her most precious possession.
With the help of his sprites, Rumpelstiltzkin changes the straw into gold.

When the cellar door is unlocked the next morning, everyone is amazed. Florentine and Victoria can now be married and the kingdom will be rich again

Meanwhile - what are those dwarves doing in this panto ? And how much longer will Dame Eccles resist the King and will Cooper ever get his trousers back ?

Act 2

It's a year later. Victoria and Florentine are married and have a beautiful baby son called Tom.
Everyone gathers for the baptism - even the dwarves who are looking for a mine - any sort of mine - we don't mind - we're miners you see !
The King gets Dame Eccles away from Cooper for a moment and serenades her so it looks like Cooper might never get his trousers mended.
Simon arrives with a present for the baby from him (his old teddy) and from Buttercup (a cowbell !) and Victoria says Tom is the most precious thing in the world.
BANG ! Rumpelstiltzkin appears and demands the baby as the third precious thing.
After the outcry, Rumpelstiltzkin gives them all a day to find out his name and disappears.
In the Gold Mine under the Palace the dwarves have set themselves up and Dopey is discovered and chased away by Rumpelstiltzkin. Meanwhile Buttercup strays into the mine and overhears Rumpelstiltzkin and learns his name.
The next morning, everyone gathers with the names - Simon suggests some strange names like Foxglove and is told off by dame Eccles who tells him to go away.
Rumpelstiltzkin goes through them - Algenon.... No, Boniface .... No, no, no, Horatio ...ooohh I like that ... but no it's not right .... all the way down to Zeus at the end ... No No No !
Two of the three extra guesses are squandered and everyone tries to find Simon, who's left the village, so that he can tell them what Buttercup is trying to say.
Simon is found - the name is discovered - Rumpelstiltzkin vanishes and the day and the baby is saved.
The King and Queen decide to stand down and pass the crown to Florentine and Victoria, and Simon is declared Minister for the Countryside.
Well that's our version - if you were there we hope you enjoyed it.

| | | | |
| --- | --- | --- | --- |
| ACT I | | ACT II | a Year Later |
| Scene 1 | The Village Square | Scene 1 | Prince Tom's Baptism at the Palace |
| Scene 2 | Dame Eccles' Garden | Scene 2 | A pathway leading to the village |
| Scene 3 | The King's boudoir in the Palace | Scene 3 | The Gold Mine underneath the Palace |
| Scene 4 | Dame Eccles' Garden | Scene 4 | Dame Eccles' Garden |
| Scene 5 | The Cellar in the Palace | Scene 5 | The next day in the Village Square |
---
| | | | |
| --- | --- | --- | --- |
| CAST | | | |
| Victoria, daughter of Dame Eccles | Kathy Carrig | Prince Florentine, son of King Marzipan | Jo Banbury |
| Rumpelstiltzkin | Jo Evans | Dame Eccles | Mick Selley |
| Queen Madeline, sister to King Marzipan | Jan Treacher-Evans | King Marzipan, brother to Queen Madeline | Steve Tarpey |
| Reverend Seedcake Tompkins | David Jenner | Farmer Scrumpy | Derek Bruce |
| Cooper, the Barrelmaker | Will Rawlings | Miss Macaroon, the School Misstress | Jackie Bruce |
| Postmistress Patsy | Mandy Godridge | Simon | Vanessa Breach |
| Town Crier | Kevin Carrig | Buttercup, the cow | Maggie Tarpey and Phill Evans |
Villagers, Maids,
Dream Dancers, Cowboys,
Guests at the Christening
Sharon Anderson, Sue Calvert, Jenny Courtnage,
Don Ellis, Amanda Gowers, Lesley McCarthy, Lisa Ross,
Ruth Savage, Carol Selley, Mary West
Naughty Schoolgirls
and Trainee Flappers

| | | | | |
| --- | --- | --- | --- | --- |
| Abigail | Megan Courtnage | | Beatrice | Clare McCarthy |
| Clarissa | Rachel Bruce | | Daphne | Claire Carrig |
| Edwina | Kate Williams | | Felicity | Penny Wilson |
| Gloria | Deborah White | | Harriet | Kathleen Adams |
Jo's Girls - The Dancers
Bethany Breach, Catherine Bruce, Emily Courtnage, Alice Courtnage, Bekka Selly
Flower Girls, Miners, and
Rumplestiltzkin's Sprites
Blair Anderson, Megan Treacher-Evans, Hannah Ross, Katherine Savage,
Rebecca Savage, Charlotte Selley, Hannah Tarpey, Abigail West, Sally Wilson
The Seven Vertically Challenged Miners (for reasons of copyright and, of course, political correctness)

| | |
| --- | --- |
| The one who's slightly stressed | Adam Tarpey |
| The one with a permenant allergy | Ben Ellis |
| The one who suffers from insomnia | Ben Calvert |
| The one who's lacking a little in confidence | Adam Ellis |
| The one who enjoys his work | Arran Treacher-Evans |
| The one who's doing very well with his studies | William Adams |
| The one who's academically challenged | Paul Gowers |
| | |
| --- | --- |
| Piano | Phil Richards |
| Guitars | Grahame Polley & Julian Horlock |
| Drums | Ian Gowers |
Director
Vanessa Breach
Written by
Vanessa Breach
Choreography
Vanessa Breach
Choreography for Jo's Girls
Jo Evans
Stage Manager
Ray Breach
Backstage Crew
Phill Evans,
Dave Evans,
Carol Barratt,
Timothy Breach,
James McCarthy,
Bryan Jackson,
Matthew Carrig,
Oliver Woodage,
Alison Ellis,
Garry Treacher-Evans
Lighting Crew
Kevin (Sparks) Carrig,
Andy Woodage,
Matthew Polley
Scenery & Props
Phill Evans,
Mick Selley,
Jo Evans,
Jo Banbury,
Vic Selley,
Brian Simmons,
cast and families
Wardrobe
Jennie Adams,
Mary West,
Nan Selley
Assisted by
Wendy Evans,
Monica Church,
Ruth Savage,
Julie Wilson,
and friends
Chorus Mistress
Carol Selley
Continuity Lady
Linda Gibbs
Refreshments
Sue Knight and friends
Front of House
Dennis Drysdale & friends
Dressing Rooms
Jennie Adams, Christine Williams, Caroline Stephenson, Therese Jordan, Angie Pawlyszyn, Rebekah White, Joanne Wilson, Paula West, Suzanne Battensby, Julie Wilson, Julie Jenner, Maggie Tarpey, Norma White
Treasurer
Sue Calvert
Publicity Officer
Carol Selley
Secretary
Jackie Bruce
Photographer
Brian Simmons
Poster Design
Leslie McCarthy
Programme Design
Leslie McCarthy
Producer
Vanessa Breach
---
The King`s Dream
The Queen and Dame Eccles
The King & Queen
The Accessories
Victoria gets a letter
Dame Eccles & The King
Hold on ...
Dame Eccles
Dame Eccles
Dame Eccles
Oh, Mother. What HAVE you done
Victoria and Florentine share a moment
On A Wonderful Day Like Today
Baby, Baby, Baby
Silence!
Curses!
The King !
On A Wonderful Day Like Today
The Wedding
The Glory Of Love
Rumpelstiltzkin returns !
The King and Queen
Queen Madeline
Spring, Spring, Spring
Postmistress Patsy (Mandy Godridge)
Dame Eccles
Baby, Baby, Baby
I never promised you ...
Baby, Baby, Baby
One day ...
Are they all from men ?
Caramel
Dame Eccles
Just in time for lunch !
Last guess...
Caramel
Algenon ...
Zippah Dee Do Dah
Pansy !
A little game
I`ve just noticed ...
...Algenon ...
Boniface ...
Hang on, maybe ...
Buttercup, do you know ...
The Adult Cast
...no, it`s not Algenon
If I Were Not ....
The Baptism
Baby, Baby, Baby
I told you ...
The Finale
Baby, Baby, Baby
So that`s how ...
Is this really necessary ?
---
Costume designs by Mary West
Set blueprints by Mick Selley
Painting the set
Rehearsals
---
Rumpelstiltzkin was first assembled in it's current form by the brothers Grimm from four different but complementary versions of the tale.
The Grimms, Jacob and Wilhelm, were businessmen and academics working in Hesse in the early 19th century and they collected tales from educated people of their acquantaince, while exercising a strong editorial control. The stories where meant to be morally uplifting and included warnings to children.
Although the best known version has come from the Grimm's book, there are many other versions of the tale and many versions of the little man's name
The Scots have
Little kens our guid dame at hame
That Whuppity Stoorie is may name !
while an Irish version has
Little does my lady wot
That my name is Trit-a- Trot
and in Suffolk
Nimmy nimmy not
My name's Tom Tit Tot
and the Cornish have him singing
Duffy, my lady, you'll never know - what?
That my name is Terrytop, Terrytop- top
Other versions of the name are Trwtyn-Tratyn from Wales, Purzinigele (Austria), Ricdin-Ricdon (France), and Panczimanczi (Hungary) and the story is known in Cornwall as Duffy and the Devil or Duffy and the Buccaboo. There is a lovely version set in the Caribbean called How the Crab got his Shell.
The original English translation of the Grimm's tale was by Edgar Taylor in 1823 and he was one of the first to point out these occurances not only in British folklore but also a similar story in a book published in Amsterdam in 1708. In fact the name seems to have existed back in the late 1500's when Rabelais book Gargantua, Geschichtklitterung(1575-90) listed Rumpele stilt oder der Poppart as a game.
Rumpelstiltzkin has very primitive roots : it hinges on the interdependence of name and identity (the dwarf's magic can only be defeated by the knowledge of his name), the outwitting of supernatural forces by human cleverness, and the terrible pledge by the heroine of her first-born child (this was an age of high infant mortality and it was generally believed that gnomes and fairies stole young children).
It may now have been made into a more amusing story but when it was being told in darkened rooms in long winter nights long ago, it must have had considerable power.
Why spinning straw into gold ? Well the storytelling centres of castles and houses were the spinning and sewing rooms. The work was dull and the women working there told stories to pass the time. So many of the stories mention spindles, spinning wheels, needles and sewing !
Top of the page
---
A bit Rumpelstiltzkin humour
If anyone wants to write some sequels, please feel free - as long as you send them in so I can add them to the page !
Diary of a Gnome
Monday. Woke really late feeling happy. Found myself in a castle with a silly young girl who thought she could turn straw into gold. After spending all night with her crying on my shoulder I began to wonder if this wasn't a nightmare....
Tuesday. See Monday

Blind Date
"When the screen went back I decided my dad was right and I shouldn't talk to strange men, especially when they are small, talk in riddles, throw temper tamntrums, and want babies" .....Miss Miller

Thanks to Sarah Reed and Chris of Hampshire Schools Library Service for all of the history and the humour. Original sources included Classical Fairy Tales by Iona & Peter Opie.

Top of the page
---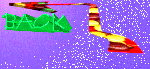 All pages are İMAD Productions 1997-2005
Email
20 December 2005