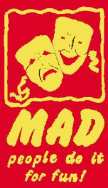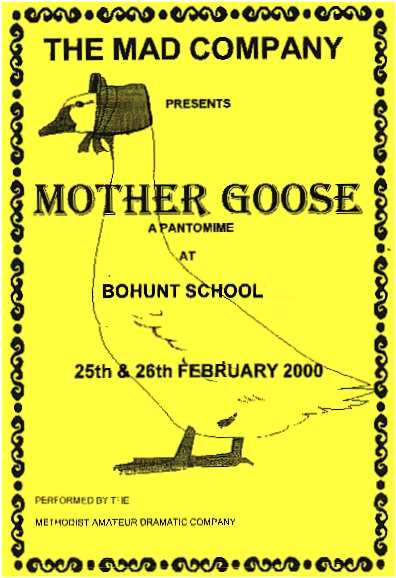 MOTHER GOOSE

Mother Goose was staged at Bohunt on Friday 25th and Saturday 26th February 2000.

---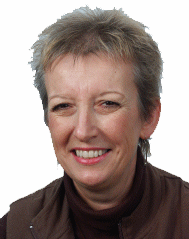 Hello and Welcome
Mother Goose is one of the most well known pantomimes and I'm sure most of you have heard of it, but do you know the story? Well, even if you do, we hope that you will still be pleasantly suprised by our adaptation. Regular MAD Company audiences will know that we like to add our own touches to the traditional stories and this production is no exception. Mother Goose is strongly based on those lifelong enemies, Good and Evil, and we hope that you will join in with the boos and the cheers and really enjoy our first show in the new Millennium.

For our second show of the new Millennium, watch out for a new venture for the MAD Company. We will be presenting an evening of entertainment celebrating the last one hundred years in song, dance, tragedy and comedy (especially comedy!). Do come and join us and enjoy Supper and a Show at Bohunt School in July.

It hardly sems possible that the next year will be the MAD Company's tenth anniversary. We started in a very small way in 1991 with our own version of Cinderella which, to our delight, was a great success. To celebrate this momentous occasion we will be presenting Cinderella once again. Whether you saw it the first time, or you are relative newcomers to our shows, we'd really love to share our Tenth Anniversary production with you.

Many thanks for supporting our show and now, sit back, relax and let us entertain you.

Vanessa K Breach
Chairman
Top of Page
---
Act 1
Our story opens in the village of ...well, never mind where it is.
Actually our story starts with the Demon of the Dusk - a totally horrible creature who believes everyone can be corrupted, and Fairy Stardust, who believes that some people just can't be !
She tells the Demon of a goose lady who desires nothing from life but to look after her geese and her orphans. And so the Demon and the Fairy make a bet .... if he can corrupt Mother Goose, Fairy Stardust clear off and stop bothering him, and if he can't, then the Demon will go away ... for ever!

Meanwhile, in our village of Eidelweiss, Mother Goose is poverty struck and awaits the return of her son Pieter from London where he's gone to seek his fortune. Also waiting for Pieter is his beloved Heidi, but Jasper Jughandle also has eyes for Heidi.
Hiedi is an orphan, and helps Mother Goose look after all her geese ...and all the other orphans. Jasper, landlord of the Flying Goose, owns Mother Goose's cottage and of course, she is behind with the rent. If Heidi will agree to marry Jasper, says Jasper, he will overlook the rent. With his black teeth and bad looks there's not a big chance of that happening!
So Jasper sends the boys, Ronnie and Reggie Crate round to evict Mother Goose, but Pieter arrives just in time and pays the rent. With a bit of quick adding up, she even pays for the rest of the village and has more left over then she started with!

So, Mother Goose is safe for a while, but just to make sure, Fairy Stardust brings Gertie to the goose farm. Now Gertie is a bit special. She can sing and dance. Well, she can dance.
Just as well because Jasper has worked out what happened and is back for the rent!
Before he can evict anyone, Gertie lays not one but three GOLDEN eggs and saves the day !
With the rent paid, Mother Goose entertains everyone in the Flying Goose and all seems well. But she's upset that no-one famous has come to her party, she's become a bit of a snob and even sends Gertie home. Finally, Peiter and Heidi tell her that all the famous people have returned their invitations and the only people coming are her already - her real friends. Mother Goose apologises, Ronnie and Reggie bring Gertie back - Jasper was trying to steal her! - and the party starts.
Another day, another party. Ronnie and Reggie now work for Mother Goose and stop Jasper as he tries to sneak into the party. Jasper only wants to see Mother Goose and tell how lovely she is. He seems to want to marry her and asks her for a small token - what about Gertie? Mother Goose rejects him and tells him to clear off, Jasper admits he was only after the goose and tells Mother Goose she's old and ugly.
The Demon appears and plays on Mother Goose's hurt feelings. If only she'll give him Gertie, she can have eternal beauty .... all the others only want you for your money .... finally Mother Goose agrees and, after a long striptease, dives into the Magic Wishing Well!
As she does this, Gertie flies away to Fairyland!
Act 2
Jasper plots to go to Fairyland to get Gertie.
Peiter, Heidi and the villagers come to the Enchanted Lagoon for a picnic and meet a beautiful lady. The beautiful lady eventually admits to being Mother Goose! and explains that she traded Gertie for her new look. Everyone now tells her she looks terrible and they want nothing to do with her.
Mother Goose is very upset and when Fairy Stardust appears, she promises to do anything to get Gertie back. Fairy Stardust tells her to start by going back to being plain old Mother Goose - no nice house, no riches, these have all gone. Then we'll see about getting Gertie back.
Peiter, Heidi, Mother Goose, Ronnie and Reggie all journey to Fairyland but Gertie hasn't got there yet and Jasper captures her on the way!
In the Fairy Queen's palace, the Herald announces the Demon and Fairy Stardust. The Queen has no option but to banish Fairy Stardust but before she can do it, Mother Goose and friends arrive to plead for Gertie. Mother Goose admits her mistakes and says she doesn't deserve Gertie. The Queen banishes the Demon, sends Fairy Stardust back to Fairy School 'to learn some basics', and sends the Herald for Gertie. But Gertie's not there!
Back in Eidelweiss the cottage has collapsed and everyone's poor again. Suddenly Ronnie and Reggie arrive and tell of a squawking noise at Jasper's house - maybe it's Gertie! Peiter and Heidi go off to investigate.
Mother Goose is so ashamed of what she's done but all forgive her. When Jasper arrives he has to be stopped from going home while Peiter and Heidi search for Gerti so Mother Goose accepts Jasper's earlier offer of marriage! Jasper laughs and admits he was only after the goose. Our gallant pair return with Gertie 'what are you doing here, you're locked up in my cellar!'. Ronnie and Reggie arrest Jasper.
Fairy Stardust reappears with her usual trip, and tells Gertie she must decide between Fairyland where she'll be safe or Mother Goose. Gertie of course chooses Mother Goose. Mother Goose tells the fairy that Jasper just needs someone to look after him and so Jasper agrees to marry Mother Goose - it'll be ok, and maybe Gertie can lay a few golden eggs! With Heidi agreeing to marry Pieter it'a a double wedding and even the Demon returns to join the celebrations.
---
Jasper Jughandle
Jackie Bruce
Gertie Goose
Jo Evans
Demon of the Dusk
Steve Tarpey
Fairy Stardust
Norma White
Pieter
Jenny Courtnage
Heidi
Amanda Gowers
Mother Goose
Mick Selley
Herald
Vanessa Breach
Ronnie Crate
Derek Bruce
Reggie Crate
Will Rawlings
Fairy Queen
Jo Banbury
Villagers
Sharon Anderson, Jo Banbury, Dave Bradley, Sue Calvert, Kathy Carrig, Don Elis, Mandy Godridge, Leslie McCarthy, Frank Millward, Ruth Savage, Carol Selley, Maggie Tarpey, Jan Treacher-Evans, Christopher Turner, Mary West
Orphans
Kathleen Adams, Rachel Bruce, Megan Courtnage, Clare McCarthy, Katherine Savage, Charlotte Selley, Hannah Tarpey, Megan Treacher-Evans, Sally Wilson, Blair Anderson, Hannah Ross, Becka Selley, Abigail West, William Adams, Ben Calvert, Adam Ellis, Ben Ellis, Paul Gowers, Adam Tarpey, Aran Treacher-Evans
Jo's Girls - the dancers
Bethany Breach, Catherine Bruce, Clare Carrig, Alice Courtnage, Emily Courtnage, Kate Williams
| | |
| --- | --- |
| Piano | Phil Richards |
| Guitars | Grahame Polley & Julian Horlock |
| Drums | Ian Gowers |
Director
Vanessa Breach
Choreography
Vanessa Breach, Jo Evans (for Jo's Girls), Rebekah White (for Jo's Girls)
Stage Manager
Ray Breach
Backstage Crew
Phill Evans, Dave Evans, Alan Jordan, Kevin Stephenson, Bryan Jackson, Timothy Breach, James McCarthy, Matthew Carrig, Garry Treacher-Evans
Lighting Crew
Kevin Carrig, Andy Woodage, Rebecca Polley
Scenery and Props
Mick Selley, Phill Evans, cast, crew, and families
Wardrobe : Principals & Chorus
Mary West, Hazel Williams, Wendy Evans
Wardrobe : Children & Dancers
Jennie Adams, Ruth Savage, Julie Wilson
Wardrobe : Mother Goose
Nan Selley
Wardrobe : Gertie Goose
Wendy Evans, Dave Evans
Chorus Mistress
Carol Selley
Continuity Lady
Linda Gibbs
Refreshments
Sue Knight and friends
Front of House
Dennis Drysdale & friends
Dressing Rooms
Jennie Adams, Caroline Stephenson, Therese Jordan, Angie Pawlyszyn, Alison Ellis, Rebekah White, Paula West, Suzanne Battensby, Julie Jenner, Jan Dalessi
Treasurer
Sue Calvert
Publicity Officer
Carol Selley
Secretary
Jackie Bruce
Photographer
Brian Simmons
Poster Design
Leslie McCarthy
Programme Design
Leslie McCarthy
Producer
Vanessa Breach
---
The Demon of the Dusk
Fairy Stardust
Heidi
Jasper Jughandle
Jasper`s Boys
The Eviction
Paying the rent
Fairy Stardust
It`s a GOLDEN EGG!
...and ANOTHER !
Sharing out the donuts
Sharing out the donuts
Mother Goose
Mother Goose
Jasper has designs on Mother Goose
Jasper woos Mother Goose
The Striptease
The Striptease
The Striptease
The Striptease
The Striptease
A bit of a tart
A bit of a tart
Goin` Courtin`
The Alpine Expedition
The Fairy Queen`s Judgement
...banished !
Ron & Reggie Crate
Fairyland ....
...or...
...Mother Goose
Mother Goose!
Fairy Stardust and the Demon
Adult Cast
The Chorus
The Stage Crew
Sue making the tea (again)
Michelle
Mick doing his makeup
Mother Goose`s Costumes
---
Some pictures of painting here Temporarily suspended (equals - they aren't here!)
and some set designs here. (or here)

---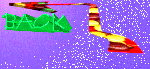 All pages are İMAD Productions 1999-2006
Email
6 February 2006