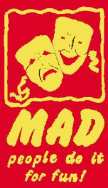 CINDERELLA
Our tenth anniversary pantomime, Cinderella was staged at Bohunt from Thursday 22nd to Saturday 24th February 2001 and was a great success.
It marked our pianist Phil Richards last performance with us and at the Saturday evening show he was presented with a framed group photo and a silk tie at an emotional ceremony on stage.
Cinderella's coach was probably our most ambitious piece of scenery (well, is it scenery if it moves ?) to date since it had to do two 90degree turns to get to the stage, and necessitated the moving of Saturday's video man and changes to the seat layout. But it was worth it. The photos don't show the true beauty of it as the lights on the carriage and wheels were only added on the Wednesday but it was truely a carriage fit for Princess Amethyst.
---
HELLO AND WELCOME
Four years ago, I sat in the principal's office at college and he said, "You're going to Liphook!" "Where?" we replied! A few days later, we came to this mysterious Hampshire village to meet the church and the people. I met my predecessor for the first time at the Saturday night performance - he was none other than "Captain Blackheart!" the baddy! From the very beginning we realised that the MAD panto was the Liphook event of the year, and its good to know there's Methodist behind our madness!
Sadly, this year will be my last MAD panto, but I'm sure that the wonderful MAD panto company, which incredibly began 10 years ago, will continue to grow better and better and better. Next year, an American minister will be serving the Methodist Church in Liphook. This will be a wonderful education in British life for her!
So Cinders, you shall go to the panto...and for many more years to come!
So my thanks to the cast and crew for all their months of hard work, and to you for coming. And welcome, now, CINDERELLA who hasn't aged a day since 1992.
God bless,
Revd David Hinchliffe
Methodist Minister
David was the minister from 1997 when Phil Thomas left, until 2001. Although he didn't appear on stage, both he and Kathyrn were usually to be found helping with the refreshments.
---
ACT I
ACT II
Scene 1
Merryvale Market
Prologue
A pathway from the Palace
Scene 2
A pathway to the village
Scene 1
A ballroom in the palace
Scene 3
A forest glade
Scene 2
A pathway from the Palace
Scene 4
A pathway in the forest
Scene 3
The kitchen of Pennyless Manor
Scene 5
The kitchen of Pennyless Manor
Scene 4
A pathway from Pennyless Manor
Scene 5
Merryvale Market
Finale
Scene 1 : In the market square Dandini announces that the Prince will be hunting - well having a jolly good horse ride at any rate - in the forest that afternoon and everyone is invited for the ride and a picnic.
In the evening there is to be a Royal Ball and everyone is invited to that as well - ticket to follow by Royal Messenger!
Buttons arrives and meets Dandini who gives him a ticket for the ball. Buttons explains that he is page to Baron Breadline of Pennyless Manor and that he's in love with Cinderella, the Baron's daughter.
Cinderella greets her father who has been away seeking gainful employment but has instead got married. The Baroness enters and is horrified at the sight of Cinderella - and Cinderella is with her!
The Baron admits to Cinderella that she probably just wanted to be a Baroness and live in a castle.
The daughters Semolina and Tapioca are introduced.
Scene 2
Cinderella tells Buttons that she hasn't got a ticket for the Ball because her step-mother told the messenger she only had two daughters. Buttons promises to give her his ticket.

Scene 3
While out collecting sticks Cinderella is approached by an old woman who looks a bit like Obi-One-Kenobi. Cinderella offers her the sticks she's collected and the old lady promises to help Cinderella sometime - but Cinderella cannot understand how this can happen.

Scene 4
The Baroness rips up Cinderella's ticket

The Breadline coat of arms
- a Piggybank broken, surrounded by loaves, on a field of red. In the red ... geddit ???
Top of Page
---
| | |
| --- | --- |
| Villagers | Sharon Anderson, Sue Bradley (debut), Sue Calvert, Jenny Courtnage, Edwina Davis (debut), Mandy Godridge, Amanda Gowers, Lesley McCarthy, Ruth Savage, Carol Selley, Maggie Tarpey, Christopher Turner. |
| The Fairies | Abigail West, Blair Anderson, Hannah Ross, Rebecca Savage |
| The Horses | Katie Brown-Lee, Leyna Brown-Lee, Megan Courtnage, Charlotte Selley, Megan Treacher-Evans, Sally Wilson |
| The Coachmen | Jack Brown-Lee, Michael Ellis |
| The Children | Abigail West, Blair Anderson, Hannah Ross, Rebecca Savage, Katie Brown-Lee, Leyna Brown-Lee, Megan Courtnage, Charlotte Selley, Megan Treacher-Evans, Sally Wilson, Jack Brown-Lee, Ben Calvert, Adam Ellis, Ben Ellis, Michael Ellis, Paul Gowers, Paul MacAleer, Adam MacAleer, Brodie Millward, Arran Treacher-Evans, Justin Turner (debut), Dominic Turner (debut) |
| The Abba Teens | Kathleen Adams, Rachel Bruce, Claire Carrig, Clare McCarthy, Hannah Tarpey, Deborah White |
Piano
Phil Richards
Guitars
Grahame Polley, Julian Horlock
Drums
Ian Gowers
Photo
Director
Vanessa Breach
Choreography
Vanessa Breach,
Jo Evans, Bethany Breach
Stage Manager
Ray Breach
Backstage Crew
Phill Evans, Dave Evans, Alan Jordan, Kevin Stephenson, Bryan Jackson, Timothy Breach, James McCarthy, Matthew Carrig, Garry Treacher-Evans, Caroline Stephenson
Lighting Crew
Kevin (Sparks) Carrig, Andy Woodage, Ben Lawrence, Rebecca Polley
Scenery
Mick Selley, Dave Bradley, cast, crew, and families
Props
Phill Evans, Dave Evans
Wardrobe
Mary West, Mandy Godridge, Hazel Williams, Wendy Evans, Nancy Selley, Vic Selley, Maggie Tarpey, Norma White, Jennie Adams, Ruth Savage, Jeanette Finch, Sally-Anne Turner, Elaine Browne-Lee, Julie Wilson
Chorus Mistress
Carol Selley
Continuity Lady
Linda Gibbs
Refreshments
Sue Knight & Friends
Dressing Rooms
Jennie Adams, Therese Jordan, Bethany Breach, Angie Pawlyszyn, Alison Ellis, Emily Brewer, Paula West, Suzanne Battensby, Julie Jenner, Mary West, Hazel Williams, Tom Anderson
Front of House
Mary Braich & Friends
Treasurer
Sue Calvert
Publicity Officer
Carol Selley
Secretary
Jackie Bruce
Poster Design
Lesley McCarthy
Photographer
Brian Simmons
Programme Design
Lesley McCarthy
Post Production Facilities
Steve & Maggie Tarpey
---
Click on the little pic to get a bigger pic.

The Villagers
A jolly horseride
Tittle and Tattle
Cinders & Buttons
The Ugly Sisters and the Baroness
Style
Sweet Talking Guy
Cinders
Oh No!

The Baroness rips up Cinder's ticket!

The Baroness
The Fairy and Buttons
Ugly Sisters
Ugly Sisters
Cinders and her Godmother
It's The Prince
The Prince and Dandini
The Prince and Cinderella
Buttons and Bob
Get this off....
The Villagers
The Baron and Baroness Breadline
Cinderella
---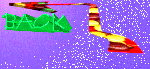 Top of Page
All pages are İMAD Productions 1998-2006
Email
7 February 2006