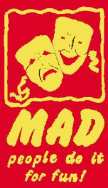 ALADDIN

Aladdin was staged at Bohunt from Thursday 14th to Saturday 16th February 2002.
---
HELLO AND WELCOME

There is nothing like pantomime in Texas. Trust me. I'm a Texan and I know. I was warned about pantomime before I arrived but I didn't quite beleive it until the MAD Comapny began preparing this year's production of Aladdin. I innocently joined in. Then the questions started, questions for which there appeared to be no answers. Like why is Aladdin Chinese? What is the purpose of Alice the Camel? Don't try to figure it out, I was advised. Just enjoy it.
That's pretty good advice. British pantomime is pure fun! There are no hdden agendas or deeper meanings. I know that the cast and crew have had great fun preparing this production and I know that you will have fun watching. Only you don't just watch, do you? As I have discovered, you the audience are also part of the fun.
I invite you to join the fun of Aladdin. Leave your worries behind and laugh. Boo the evil Abanazar and cheer for our hero and his princess. Laugh at the jokes, sing the songs and have fun. That's why we do this. Because we need to have fun and laugh with one anonther.
May God bless you with laughter this day.
Revd Allison Byerley
PS Watch out for Alice the Camel. I'm told by a very reliable source that she has an interesting accent. And it isn't local!
Allison took over from David Hinchcliffe in 2001 and one of her first experiences of village life was as a crocodile in the Carnival !
She returned to America in 2002.
---
ACT I
ACT II
Prologue
Beneath the Great Sphinx
Scene 1
The Pleasure Gardens, Peking
Scene 1
Peking Market Place
Scene 2
A quiet street
Scene 2
A quiet street
Scene 3
The same quiet street
Scene 3
Widow Twankey's Laundry
Scene 4
Aladdin's palace in Egypt
Scene 4
A pathway in the forest
Scene 5
A quiet street
Scene 5
A quiet street
Scene 6
Peking Market Place
Scene 6
The Cave of Jewels
Finale
Act 1 - Prologue

Abanazar, Toot, Carmen and Alice the Camel (how many humps ?) arrive at the Sphinx in Egypt. They have come here following the instructions in the Great Spell Book to find riches. But first they need to find a ring.
This is found and duly rubbed. The Genie appears and Abanazar asks for power, jewels and riches. This is beyond the power of the Genie of the Ring and he advises them to visit his friend Sparkle the Genie of the Lamp in Peking (OK, Beijing if you want to be picky). He tells them where the lamp is but tells Abanazar that he cannot get it on his own, he will need the help of Aladdin, a boy honest and true.
Off they go escaping just before PC Bob and Sergeant Bill arrive on the track of Alice who has been stolen from London Zoo.
Act 1 - Scene 1
Six months later they arrive in Peking (look - I know it's not called that anymore but it used to be and it's a prettier name than Beijing (well, let's face it it's not hard to find a prettier name than Beijing) so I'm using Peking). The townspeople are poor and are trying to sell their goods in the market. Toot and Carmen try selling their genuine Egyptian souvenirs but the place needs livening up. Abanazar (have a banana ? - no, no nothing to do with bananas) arrives and together they find Aladdin and Abanazar offers him a job. Aladdin has better things to do than work so he leaves.
Widow Twanky arrives and is (of course) penniless, she sees Abanazar who convinces her he's the brother of her late husband and she falls for him.
The spell is broken as Wishee-Washee reminds her of the Emperor's visit.
The Emperor arrives with his handmaiden Typhoo and tells the populace that his daughter Jasmine will be coming to the town and that no-one must gaze upon her - if they do they will be executed !
The Emperor has arranged for Princess Jasmine to marry the Prince Pekoe against her will, but with the county short of money, it's the only thing to do.
Left alone with her handmaidens, Jasmine meets Aladdin but they are discovered and the Emperor orders Aladdin's execution. But where is the executioner ! On holiday. So Typhoo volunteers for the job. Just as Typhoo is about to chop off Aladdin's head, Abanazar uses the ring to cast a spell and let Aladdin escape.

Act 1 - Scene 2
The Genie of the Ring tells Abanazar where to find the Cave of the Lamp.

Act 1 - Scene 3
In the Laundry, Widow Twankey is sorrowful - no money, no food, nothing she does comes out right. She gets on with the laundry with the help of Wishee-Washee, when he's not in the mangle or the washing machine!.
In comes Abanazar to sweet talk Widow Twankey with promises of jewels and they both persuade Aladdin to help because it'll mean he can see Jasmine again. Abanazar tells them of a cave full of gold and jewels and .. oh yes, a lamp. He just wants the lamp, Aladdin can keep the rest !
Aladdin leaves to get ready, Widow T leaves and reenters with a ring that Abanazar has bought her.
The Emperor arrives in search of Aladdin to execute him but finds Widow T in raptures over Abanazar. Typhoo confides that she secretly loves someone but doesn't know how to tell him.
Together the ladies try to tell the Emperor (for it is he) of Typhoo's feelings.
Act 1 Scene 4?
Abanazar, Aladdin, Toot, Carmen, and Alice arrive at the Cave of the Lamp. Aladdin is not too happy and tries to leave but Toot and Carmen persuade Abanazer to give him the Magic Ring. Mollified, Aladdin climbs in and Toot & Carmen and the Camel wander off.
Aladdin finds the lamp but refuses to leave until he has filled his pockets with jewels. Abanazar is furious and with an evil laugh he casts a spell to close the doors of the cave forever !
Trapped in the cave he rubs the ring but the genie is no help.
Suddenly the children wander up - with Alice who reveals that she can talk and dance ! The children go off to explore and Widow T arrives with Ariella and Persilla and Wishee-Washee and just about everyone else ! They had got into the cave by another entrance but it closed behind them !
Aladdin rubs the lamp to clean it and Ozram the Genie of the Lamp appears !! (Five sentences, six exclamation marks - this is not going to win me a Whitbread award is it ?).
Ozram is about to lead them out of the cave when Aladdin stops him and asks about the jewels. Ozram shows them the wonders of the Magic Lamp (and jewels appear everywhere, Aladdin's clothes change to sumptuous silks and they all leave the cave to go 'back to wealth and happiness, back to Princess Jasmine'.


Act 2 - Scene 1

Aladdin is splendidly dressed but the Emperor is not convinced that Aladdin should marry his daughter, Typhoo is not convinced he shouldn't be executed!
Aladdin summons the Genie and she creates for him a wonderful palace in Peking (planning permission?, public enquiry? I expect the Genie took care of that as well.). The emperor is convinced, but before Aladdin can pop the question, Wishee-Washee reminds him he is supposed to be distributing money to the poor people of Peking - so off he rushes. But as he goes, Princess Jasmine asks him about the lamp. Aladdin doesn't want to admit all this wealth was down to the Genie so he passes it off as 'just a lamp' and as she promised to look after it, he leaves it with Jasmine. Bad move.
An old man with two assistants draws near calling 'New lamps for old, new lamps for old'. Jasmine is interested and decides that since Aladdin's lamp is so old and battered, he'd be really pleased to have a bright shiny new lamp - like one of those the old man has!
She hands over the lamp - and the old man is revealed as Abanazer! He summons the Genie to transport the Palace and all it contains to Egypt !
Act 2 - Scene 2
With the palace gone, all of Aladdin's fine clothes have gone and everyone is back to rags.
Aladdin calls on the Genie of the Ring but "I've told you before - I don't do international travel." there's no help there until the Genie remembers something his friend left him a while back - it's a carpet.
Well, might as well try it. So the carpet is brought and it flies! Aladdin gets on and flies off to Egypt followed by everyone else.
Act 2 - Scene 3
Stuck
---
| | | | |
| --- | --- | --- | --- |
| | | | |
| Aladdin | Jackie Bruce | Princess Jasmine | Vanessa Breach |
| Widow Twankey, Aladdin's mother | Steve Tarpey | The Emperor T.Pot | David Jenner |
| Abanazer | Mick Selley | Wishee Washee | Richard Merriman |
| Toot | Dave Bradley | Carmen | Magie Tarpey |
| Ariella, sister of Widow Twankey | Mandy Godridge | Persilla, sister of Widow Twankey | Ruth Savage |
| Typhoo | Jan Treacher-Evans | Genie (of the Ring) | Will Rawlings |
| Sparkle (Genie of the Lamp) | Amanda Gowers | Sergeant Bill | Tony Robinson |
| PC Bob | Christopher Turner | Alice the Camel | Allison Byerley and Derek Leybourne |
| | |
| --- | --- |
| Citizens of Peking | Sharon Anderson, Sue Bradley, Sue Calvert, Alison Ellis, Amanda Gowers, Lesley McCarthy, Carrie Samuel, Clare Jackson, Terri Darnbrook, Angie Pawlyszyn |
| The Children, Skeletons, Jewels, and Emperor's Guards | Blair Anderson, Emily Hancock, Hannah Ross, Kathryn Savage, Rebecca Savage, Charlotte Selley, Abigail West, Melissa West, Ben Calvert, Sam Calvert, Adam Ellis, Ben Ellis, Michael Ellis, Paul Gowers, Adam MacAleer, Paul MacAleer, Brodie Millward, Dominic Turner, Justin Turner |
| Dancers and Ladies in Waiting | Rachel Bruce, Claire Carrig, Clare McCarthy, Hannah Tarpey, Megan Treacher-Evans |
Piano
Frank Mills
Guitars
Grahame Polley, Julian Horlock
Drums
Ian Gowers
Director
Vanessa Breach
Choreography
Vanessa Breach,
for the Dancing Girls Bethany Breach, Rachel Bruce
Stage Manager
Ray Breach
Backstage Crew
Dave Evans, Alan Jordan, Kevin Stephenson, Bryan Jackson, Timothy Breach, James McCarthy, Adam Tarpey, Caroline Stephenson
Lighting Crew
Kevin (Sparks) Carrig, Andy Woodage, Ben Lawrence, Matthew Carrig
Scenery
Mick Selley, Dave Bradley, cast, crew, and families
Props
Christopher Turner & friends
Wardrobe : Principals & Chorus
Mary West, Mandy Godridge, Hazel Williams, Wendy Evans, Nancy Selley, Vic Selley, Maggie Tarpey
Wardrobe : Children & Dancers
Jennie Adams, Ruth Savage, Jeanette Finch, Sally-Anne Turner
Chorus Mistress
Sue Calvert
Continuity Lady
Linda Gibbs
Refreshments
Sue Knight & Friends
Dressing Rooms
Jennie Adams, Therese Jordan, Sally-Anne Turner, Emily Brewer, Paula West Don Ellis, Julie Jenner, Mary West, Ross Anderson, Tom Anderson
Front of House
Mary Braich & Friends
Treasurer
Sue Calvert
Publicity Officer
Carol Selley
Secretary
Jackie Bruce
Poster Design
Lesley McCarthy
Photographer
Brian Simmons
Programme Design
Lesley McCarthy
Post Production Facilities
Bohunt
---
Click on the little pic to get a bigger pic.
All the pictures have a link to another one and a way back.

---
For 2002 we performed the second most popular panto in the country - Aladdin.
The story originates from Tales From The Arabian Nights and the Panto version is set in China,
In 1860, the central female character changed from Widow Ching Mustapha to Widow Twankey - reflecting the popularity of tea and the Chinese style. So now we have characters called Twankey (a tea from the Tuon Ky region of China), Pekoe (a delicate tea from the downy tips of the tea bush - from the 18th Century Chinese peh ho where peh means white and ho means down), Typhoo (her first name is Rosie Lee - Cockney rhyming slang for Tea), the Emperor Teapot, and his daughter Jasmine (which is also used to make tea).
Actually she used to be called something else until Disney came along and changed it.
And because of the laundry we have Ariella and Persilla as well as Wishee-Washee.
Have a look here for more.
Oh, in case you were wondering, the most popular panto is Cinderella which usually has more performances that the next two put together !

Oh yes, Widow Twankey's first name is Saccharrina (from the Sanskrit sarkara meaning sugar which turned into the Greek sakkharon we get the combining form saccharo- or sacchar- to which we add the suffix -in meaning 1) a neutral organic compound including proteins, glucosides, and glycerides as in insulin and tripalmitin, or 2) an enzyme in certain non systematic names such as pepsin or 3) a pharmeceutical substance such as aspirin or penicillin or 4) a chemical substance in nonsystematic names like coumarin (a vanilla scented ester used in perfumes and flavourings, from coumarou - the tonka-bean tree).
All this gives us saccharin. Aren't you totally amazed ?
Top of Page

---
All pages are İMAD Productions 1998-2006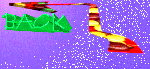 Email
29 December 2005