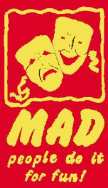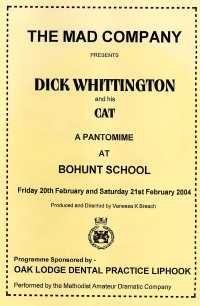 DICK WHITTINGTON

Dick Whittington was staged at Bohunt from Thursday 27th February to Saturday 1st March 2004.
---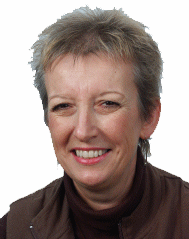 HELLO AND WELCOME
A warm welcome to you all.
Over the years, many writers and storytellers have taken liberties with the facts and produced a more colourful account of this gentleman's life and travels and the legend has grown. We are no exception!
Richard Whittington was born in Pauntley, Gloucestershire, sometime around 1350, and was the youngest son of a local landowner. He really did leave his home to go to London but, as far as we know, he didn't take a cat. He became a wealthy merchant selling rich fabrics to King Richard II. He was actually Lord Mayor of London on four occasions but for some reason the legend has conveniently forgotten one appointment and three terms of office are usually referred to. He died in 1423 leaving a large sum of money (equivalent to several million pounds today) which was used for charitable purposes.
Even if the legend of Dick Whittington is false, perhaps the truth is even more amazing. Richard Whittington survived as a prominent City merchant through turbulent times and even more astoundingly, the charitable trust he created nearly 600 years ago is still helping people today. So you see, he sounds quite a likeable character and worthy of a panto or two.
Well that's the history, so now it's time to relax, get ready with the cheers, boos and hisses, and enjoy The MAD Company's production of 'Dick Whittington'.
Vanessa K Breach
Chairman
---
ACT I
ACT II
Scene 1
Cheapside, London 1377
Scene 1
On board the Battered Cod
Scene 2
A quiet street
Scene 2
Outside Big Ben
Scene 3
Inside Fitzwarren's Stores
Scene 3
The Sultana's Palace
Scene 4
Highgate Hill
Scene 4
Petticoat Lane
Scene 5
London Docks
Scene 5
Cheapside
---
Alderman Fitzwarren is preparing to journey to Morocco to buy more goods for his store. Unfortunately his store is overrun with rats which have eaten almost everything.

Dick Whittington arrives looking for work but is told there is none. Despondent, he starts to return home but falls asleep. The Good Fairy appears and brings Tom. Tom leads Dick to Alderman Fitzwarren's store where he meets Alice. She implores her father to employ Dick and when Tom chases off all the rats, Dick is employed.

Meanwhile King Rat swears revenge.

Dick and Tom are left in charge of the store ... and the wages ... while the Alderman and Dozy Dan go off to sort out the ship.

The Alderman's two cooks, Cherie Trifle and Sarah Suet have been asked to get the flour out of the cellar but Dick offers to do it while they watch the store. After foiling a hold-up, they are hypnotised by King Rat, unlock the safe, and put the money in Dick's bag!

The money is gone and of course the ensuing search finds it in Dick's bundle. Dick is turned out despite Alice's pleading.

Meanwhile Captain Rock Salmon and First Mate Chips of the Battered Cod arrive to meet the Alderman. Plans for the trip are finalised and loading begins. Dick returns begging for justice but is rebuffed. King Rat appears and suddenly the two cooks remember seeing him before .... 'you were in the store you were' .... the whole story comes out and Dick is cleared. Everyone is overjoyed and to the strains of the Whelk Song they prepare to board ship. But King Rat and the ratlings get on board too!

Shipwrecked on the coast of Morocco, the crew are captured and led before the Sultana who says they will be eaten since there is no food left in the kingdom on account of the rats. Once again Tom comes to the rescue and after a final duel between Dick and King Rat the rats are defeated. Everyone sails back to London where the Sultana's handmaiden marries Dozy Dan, Dick marries Alice and everyone lives happily ever after.

Top of Page
---
Dick Whittington
Jackie Bruce
Alice Fitzwarren
Jo Banbury

Once again, Jackie takes to the stage as Principal Boy. Following in tradition, the thigh slapping continues and as with all good stories there is a happy ending. A wedding is to take place and of course, the bride and groom will live happily ever after

We welcome Jo back to the role of Alice, playing it just as delightfully as she did in our first production of this show. Always smiling and adding her own magic to the role, she's a real star.

Tom Cat
Claire Carrig
King Rat
Tony Robinson

Claire joins us this year using her dancing skills to give us a very elegant Tom Cat. As one of our longest serving members and still only 18 years old we know she has a great future.

What a great addition to the company Tony has proved to be. At his own admission performing on stage is very new to him, but there's no doubting he's a natural. Watch Out for a very scary King Rat.

Tinkerbelle, the Fairy of the Bells
Jan Treacher-Evans
Alderman Fitzwarren
Dave Bradley
As our regular audiences will know, there's very little that Jan can't do onstage and this year she plays Tinkerbelle with grace and style. Often cast as 'the old bat' this year Jan shows us just how nice she can really be!

Dave joins us once again this year in a role he's perfectly suited to

—

although who can forget Supennan! A great all rounder, apart from his undoubted acting and singing talents, his contribution to the scenery is greatly appreciated.

Sarah Suet
Steve Tarpey
Cherie Trifle
Derek Leybourne
Despite once telling us he would never play the Dame, Steve returns to the role with gusto. A wonderful dame with superb comic timing and great audience rapport, we really hope that his decision to make this his last pantomime can be overturned.

One of our newer members, Derek has taken the company by storm and we are delighted to see him once again as Dame. His unstinting enthusiasm and talents have given the group a real boost and we know you'll enjoy his antics once again.

Captain Rock Salmon
Mick Selley
First Mate Chips
William Rawlings
Once again, Mick shows us how versatile he is as he plays the slightly batty Captain. Apart from his acting talents, Mick is responsible for most of the scenery design and construction. Where would we be without you, Mick?

Always a popular character, Will once again gives a great performance as Chips. Having played a variety of roles over the years, he once again shows

us what a talented performer he is.
Dozy Dan
Richard Merriman
Sultana Kake
Ruth Savage

Very much at home shouting at the audience, Richard takes to this role with ease. Having struggled with illness over the last year, we're thrilled to see Richard fit and well and enjoying his role as Dan.

Having been part of our chorus for many years, Ruth plays her second principal role in panto as the glamorous (but rather cannibalistic) Sultana with great aplomb. As one of our Chorus Mistresses, Ruth is a busy lady but always gives a great performance.

Amber
Clare McCarthy
Waif
Alice Jenner

As one of our dancers, Clare adds to her stage experiences by playing the sultry Amber— sweet and innocent but with an eye for the boys

—

Amber that is, not Clare! Congratulations, Clare on your first principal role.

Hagrig
Brian Simmons
Norbert
Himself

Brian's been with us for some years now and always seems

to pop

up somewhere in some strange guise. This year he takes on Hagrid and as always adds his own special flair to the role. Oh and watch out for that dragon. You never know where he'll turn up!
| | |
| --- | --- |
| Chorus | Sue Bradley, Sue Calvert, Alison Ellis, Mandy Godridge, Lesley McCarthy, Jim Savage, Ruth Savage, Maggie Tarpey |
| Junior Chorus | Blair Anderson, Hannah Ross, Rebecca Savage, Bethany Leybourne, Mikala Leybourne, Alice Jenner, Christine Frank-Schultz, Tyla Hooper, Amy Darnbrook |
| Dancers | Kathleen Adams, Rachel Bruce, Megan Courtnage, Clare McCarthy, Hannah Tarpey, Megan Treacher-Evans, Katherine Savage, Charlotte Selley |
| | |
| --- | --- |
| Piano | Vanessa Breach, Chris Banahan |
| Guitar | Grahame Polley, James McCarthy, Roger Cutting |
| Drums | John Courtnage |
| | Photo |
Director:
Vanessa Breach
Choreography:
Vanessa Breach
Dancers:
Rachel Bruce & Vanessa Breach
Stage Manager:
Ray Breach
Backstage Crew:
Dave Evans, Alan Jordan, Kevin Stephenson, Bryan Jackson, Tim Breach, Caroline Stephenson.
Lighting Crew
Kevin Carrig, Andy Woodage, Ben Lawrence, Matthew Carrig.
Scenery:
Mick Selley, Dave Evans, Dave & Sue Bradley Tony Robinson.
Props:
Christopher Turner and Friends.
Wardrobe:-
Principals
Mary West, Wendy Evans, Nancy & Vic Selley, Vera Frank-Shultz & friends.
Chorus, Children and Dancers
Ruth Savage, Jennie Adams, Jeanette Finch, Kathleen Adams
Chorus Mistress:
Sue Calvert
Continuity
Linda Gibbs
Dressing Rooms
Therese Jordan, Julie Jenner, Yolanda Hooper, Mary West, William Adams, Jennie Adams, Marion Leybourne, Vera Frank-Schultz, Ross Anderson
Mary Braitch and Friends
Refreshments
Sue Knight and Friends
---
---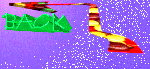 Top of Page
All pages are ©MAD Productions 1998-2006
Email
13 February 2006