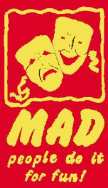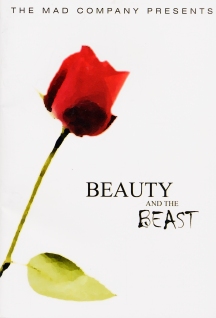 BEAUTY AND THE BEAST

Beauty and the Beast was staged at Bohunt from Thursday 17th to Saturday 19th February 2005.
For the first time it was not written by Vanessa, we used a script written by John Morley, supplied by NODA. Thanks to NODA for supplying the script - and many thanks to NODA Southern Area for awarding the Programme the 'Best Programme' Award.
The programme was designed by Murzi Design.
---
Greetings friends, and welcome to this year's Pantomime, Liphook Methodist Amateur Dramatic Company's 2005 production of "Beauty and the Beast".
If you have been to one (or many) of our Pantomimes before, please throw yourself into the proceedings, as I am told you always do, and please laugh out loud, even if you've heard some of the jokes before. If you are new to our productions, as indeed I am, then I am sure you are in for a real treat.
2005 began with a season of deep sadness throughout the world. It seems to me that this year's Pantomime is therefore all the more important because it speaks of the unquenchable nature of the human spirit. A spirit which can turn mourning into dancing, sadness into song, and grief into laughter. A spirit which always looks for the beauty, even in the beast.
So come and laugh, come and sing, come and hope, with us, that 2005 will indeed be a year of beauty throughout the world.
God bless you all,

Simon Coleman, Minister - Liphook Methodist Church
---
ACT I
ACT II
Prologue
The Countess and the Rose Fairy
Scene 1
Tumbledown Farm
Scene 1
Jarrod's Stores, Paris
Scene 2
The Chateau Gates
Scene 2
The Street Outside
Scene 3
Beauty's Library in the Chateau
Scene 3
Tumbledown Farm
Scene 4
The Beast's Chateau Corridor
Scene 4
The Street Outside
Scene 5
Tumbledown Farm
Scene 5
The Beast's Chateau Garden
Scene 6
A Country Lane
House Song
Scene 7
The Finale
---
Countess Cruella

Jan Treacher-Evans

Gruesome & Grunge, the Countess' henchmen
Alison Ellis and Dave Bradley
Rose Fairy
Many Godridge
Joe Jarrod
Mick Selley
Beauty, Joe's daughter
Claire Carrig
Tutti, Beauty's sister
Jackie Courtnage
Frutti, Beauty's other sister
Will Rawlings
Lucy Lastic, shop assistant
Derek Leybourne
Gregory Gumdrop, shop assistant
Richard Merriman
Prince Valentine
Terri Darnbrook
The Beast
Tony Robinson
Granny Gumdrop
Mary West
PC Plod
Alan Jordan*
Flash Lightning
Jim & Ruth Savage
| | |
| --- | --- |
| Chorus | Jo Banbury, Sue Bradley, Sue Calvert, Vera Franz-Shulz, Lesley McCarthy, Glenys Muscato*, Sarah Newman*, Maggie Tarpey, Pauline Ure* |
| Junior Chorus | Blair Anderson, Amy Bowers, Holly Coleman*, Robyn Coleman*, Amy Darnbrook, Christine Frank-Schultz, Emily Hancock, Jamie Hancock, Alice Jenner, Mikala Leybourne, Daniel Robertson, Rebecca Savage, Emily Theakston, Joseph Tikaram |
| Dancers | Hannah Ross, Katherine Savage, Charlotte Selley, Hannah Tarpey, Megan Treacher-Evans |
Piano
Chris Booth*
Guitar
Grahame Polley (Bass) James McCarthy (Rhythm)
Drums
John Courtnage
Photo
---
Click on the little pic to get a bigger pic.

---
Despite slightly lower audience numbers than usual, the show was great success.
This year, Vanessa decided she needed a year away from script writing - and who can blame her after 13 years - so instead we performed a script by John Morely, supplied by NODA.
Mr Morely has been described by the Observer as the 'king of pantomime'. The cast have other ideas. It was a dated, unfunny script which was at times embarassing to perform. We cut large chunks and removed the most cringe making parts but it was still a very poor script.
Since the show I have heard similar comments from other groups.
If you saw the show I'm sure you have your own opinion - was it a better script than Vanessa's? Let us know.
---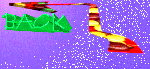 Top of Page
All pages are İMAD Productions 1998-2006
Email
1 February 2006