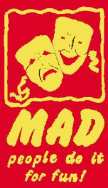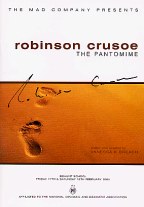 Robinson Crusoe
Our fifteenth pantomime, Robinson Crusoe was staged at Bohunt from Thursday 16th to Saturday 18th February 2006 and was a great success.

---
WELCOME
Dear Friends
Since the ministry of the Rev. Phil Thomas, Liphook Methodist Church's MAD Company has faithfully produced an annual Pantomime for the delight of the local community. Lights, dance, song, tomfoolery, and laughter have brightened up many a dark winter. This year the MAD Company presents Robinson Crusoe, a tale of Romance and Cunning Evil Deeds - with Pirates, Magic and Shipwrecks thrown in for good measure!
At this point may I say a personal thank you to all those involved in this year's production. It is many more people than the audience would ever imagine. Also, let me wish you the audience a warm glow and hearty laugh, and thank you for coming to support the company with your presence and participation!
In addition, we also remember another very special minister this year - the Rev. Conibear - who with his builder friend "Mr. Stoneman" (life is stranger than fiction) were responsible for the Vision to build Liphook Methodist Church back in 1931.
This means this year we celebrate our 75th Anniversary. We have planned "75 Reasons to Celebrate 75 Years", an ongoing programme of events for 2006. Details can be found in the green booklets available at the end of the show. In particular may I draw your attention to Friday 23rd and Saturday 24th June for the MAD Company Summer Show, and Sunday 17th September at 11:00am for our 75th Anniversary Service. You are all most welcome to join with us.
So enjoy the show, and we hope to see you soon as we celebrate 75 years of Christian witness and faith from the London Road Chapel.
God bless you all,

Simon Coleman, Minister - Liphook Methodist Church
---
ACT I
ACT II
Prologue
Setting the scene
Scene 1
The Island of Tobago
Scene 1
The Dockyard
Scene 2
A pathway on the island
Scene 2
The Poop Deck of the Saucy Sal
Scene 3
The Forest of the Grunting Gorillas
Scene 3
The Main Deck of the Saucy Sal
Scene 4
A pathway on the island
Scene 4
Under the Sea
Scene 5
The Ruined Temple of the Sacred Snake
Scene 6
A pathway on the island
Scene 7
Tropical Island Finale
Prologue : Many years ago a ship carrying gold and diamonds and rubies and ... well, you get the general idea ... was wrecked on a voyage from the West Indies to England. The TREASURE was washed up on a beach in Tobago and hidden in a ruined temple. This is the story of the young sailor who tried to find the treasure ....
Scene 1 : Captain Perkins is off on another trip to Jamaica for more rum and sugar, but he can't find the signing on papers for the crew to sign. Robinson Crusoe arrives and points out that the signing on forms are in Captain Perkins pocket and the pencil is in his hat. Chrissie - Christopher C Crusoe - arrives with his parrot and says that as this is going to be his first trip, his mother is going to come as well - Captain Perkins is outraged and flatly refuses to allow any woman, or even Mrs Crusoe, on his ship. Everyone leaves to prepare for the voyage
Captain Ivor Blackheart appears and explains that he is intending to hijack the ship and sail to Tobago to find the treasure.
Bill and Ben push an enormous box on stage - it was present from the King of Jamaica to Captain Perkins, and it opens to reveal a beautiful doll. Bill winds her up and everyone watches as she dances. Left alone to guard the box, Robinson decides to have one more look at the doll. He imagines what it would be like if she were real and kisses her hand. Suddenly she is real! Overheard by Blackheart she tells Robinson that her name is Lucy and that she was put under a spell by a witch doctor on Tobago and that she knows where the treasure is. She will never be really real until they find the magic key.
Everyone joins the ship and the ladies and Captain Blackheart stowaway.
Scene 2 : The ladies are discovered. Lucy overhears Captain Blackheart signalling to another ship, a pirate ship commanded by his old mate Captain Eddie Eyepatch. She tries to warn Robinson but to no avail.

Scene 3: The pirates attack the ship but are overpowered. Captain Blackheart is tied to the mast but tricks Lucy into reading to him from his book of spells. She reads a spell that sets him free, then he calls up a great storm that sinks the ship.

Scene 4: Under the sea - a cod ballet.
Act 2
Scene 1: The crew are washed up on the island of Tobago (well, that was convenient wasn't it!). At some point they are captured by the natives but escape.
They find the ruined temple and the treasure, the pirates meet Big Chief Wotta Woppa.
All ends happily.
---
| | | | |
| --- | --- | --- | --- |
| The Narrator | Vanessa Breach | Captain Perkins | Tony Robinson |
| Bill the Bosun | Mandy Godridge | Ben, the Bosun's Mate | Jan Treacher-Evans |
| Robinson Crusoe | Jackie Courtnage | Chrissie Crusoe | Richard Merriman |
| Mrs Crusoe | Mick Selley | Capt. Ivor Blackheart | Derek Leybourne |
| Lucy | Jo Evans | Capt. Eddie Eyepatch | Will Rawlings |
| Chief Wotta Woppa | Alison Ellis | Man Friday | Dave Bradley |
| Gorilla | Marie Attwood | | |
| | |
| --- | --- |
| Sailors & Pirates | Jo Banbury, Dave Bradley, Sue Bradley, Sue Calvert, Claire Carrig, Terri Darnbrook, Helen Coleman, Frazer Goodall, Lesley McCarthy, Glenys Muscato, Sarah Newman, Charlotte Selley, Maggie Tarpey, Megan Treacher-Evans, Pauline Ure |
| Junior Chorus | Blair Anderson, Amy Bowers, Holly Coleman, Robyn Coleman, Amy Darnbrook, Christine Frank-Schultz, Emily Hancock, Grace Jenner, Mikala Leybourne, Daniel Robertson, Rebecca Savage, Joseph Tikaram |
Piano
Chris Booth
Drums
John Courtnage
Director
Vanessa Breach
Choreography
Vanessa Breach,
Jo Evans, Claire Carrig
Stage Manager
Ray Breach
Backstage Crew
Dave Evans, Alan Jordan, Kevin Stephenson, Bryan Jackson, Caroline Stephenson, Therese Jordan
Lighting Crew
Kevin Carrig, Andy Woodage, Ben Lawrence, Matt Carrig
Scenery Design
Dave & Sue Bradley, Dave Evans
Props
Christopher & Sally-Anne Turner
Make-up
Mandy Godridge, Julie Jenner
Wardrobe Mistresses
Vera Frank-Schultz, Mary West, Wendy Evans
Wardrobe Assistants
Jennie & Kathleen Adams, Ruth Savage, Jeanette Finch, Nancy Selley
Chorus Mistress
Sue Calvert
Continuity Lady
Linda Gibbs
Dressing Rooms
Jennie Adams, Julie Jenner, Kathleen & William Adams
Poster & Programme Design
Murzi Design
Front of House
Mary Braich & Friends
Refreshments
Sue Knight & Friends
---
--> Click on the little pic to get a bigger pic.

---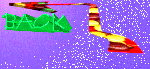 Top of Page
All pages are İMAD Productions 1998-2006
Email
18 February 2006