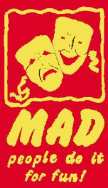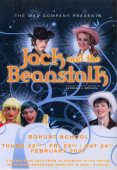 Jack and the Beanstalk
Our sixteenth pantomime and our second telling of Jack and the Beanstalk, was staged at Bohunt from Thursday 22nd to Saturday 24th February 2007 and was a great success.

---
Dear Friends
As I write the introduction in this year's Programme, I find myself desperately trying to learn lines, being measured for costumes, and growing a goatee beard in preparation for 'Jack and the Beanstalk' 2007. Having been persuaded to audition for a part this year our venerable Director asked me to play the 'Twit'. Yes, before anyone else says it, I probably was typecast!
God bless you all,

Rev. Simon Coleman
---
ACT I
ACT II
Scene 1
Widow Goldtop's Farm
Scene 1
Widow Goldtop's Farm
Scene 2
A Pathway (Widow Goldtop)
Scene 2
Milking Daisy
Scene 3
Red Indian Country
Scene 3
The Giants Castle
Scene 4
A Pathway (Black Mac)
Scene 4
A Pathway (YMCA)
Scene 5
Widow Goldtop's Farm
Scene 5
Widow Goldtop's Farm
Scene 6
A Pathway (Widow Barleycorn & Dr Sleeping Bear)
Scene 6
Finale
Scene 7
The Giant's Castle
Scene 8
A Pathway (Billy & Black Mac)
Scene 8
Widow Goldtop's Farm
Act 1
Our story opens at the farm of Widow Goldtop. Obviously she's poor and the farm is run down (well, it is panto). Most of the money has actually been stolen by Giant Blunderbore who lives way up in the clouds and (allegedly) eats people. Jack arrives with Daisy the cow who just isn't in the right mood to give any milk - in fact she's the only cow left because all the others have been sold. Jill Barleycorn, daughter of Widow Barleycorn who runs an arable farm down the road, and she and Jack go off on a picnic with the ranch children. They're not going to school because the giant knocked all the buildings down!
Widow Barleycorn enters and tells Widow Goldtop how poorly she's feeling. Along comes Black Mac to collect this weeks rent. Which of course the widows don't have. He does offer to take Jill instead - she'd make a mighty fine wife. They are saved from immediate eviction by the arrival of the Sheriff who points out the need for an eviction order and twenty-four hours notice. The Sheriff has come looking for a new deputy and Billy the Kid volunteers (well, sort of).
Jack and Jill are sent to market to sell Daisy but no-one at the market wants her so they continue out into the prarie where they are captured by Indians. The Indian Chief Doctor Sleeping Bear (Dr who? No, not Dr Who, Dr Sleeping Bear) releases them and offers to buy Daisy to provide milk for his numerous children. He offers beans - magic beans - in payment. These beans will bring good fortune, I am a witch doctor - witch doctor - I told you which doctor, pay attention.
Returning home, Jack's beans are thrown to the ground by his furious mother and they all prepare for eviction the next day.
Overnight a beanstalk grows from one of the beans, or maybe all five grow and intertwine - yes must be that, one out of five germination is a bit poor.
Jack vows to climb the beanstalk and get back the money that Giant Blunderbore has stolen from them..
In the Giant's castle, Jack and Jill find Jemima, the Giant's housekeeper. She warns them of the Giant and how he will eat them if he finds them. She's never seen the giant and neither has anyone else - they all know to keep out of his way. Just then the Giant comes home and Jemima tells him to count his money while she finishes off his supper. This sends the Giant to sleep, Jack and Jill take some money and leg it back down the beanstalk, but Jemima will not go with them.
The rent is paid and the farms are safe.... for the moment. And they've even got Daisy back - Dr Sleeping Bear returned he because she gave no milk - she was pining for the farm I expect. With all the money he is invited to stay with all his children.
Act 2
A party is in full swing at the refurbished ranch of Widow Goldtop. Jack and Jill come in to get some money for a new milking machine and a tractor wheel but there's none left! Of course this means the evil Black Mac turns up for the rent and is only put off because he hasn't served the eviction order (quick thinking from Billy there). There's nothing for it but for Jack and Jill to go back up the beanstalk and get more money.
The widows attempt to milk Daisy and decide that they need to go up the beanstalk as well.
In the castle the widows are chased by a ghost.
Jack and Jill surprise the Giant and find out he's not what he seems but is a normal man using a megaphone to sound big! Not only that but he's actually Jemima's husband. He explains - one day all our children disappeared and I just wanted to hurt everyone but I'm really sorry and you can have all the money back. Jack remembers that the Indian Chief mentioned a lot of children and he goes off to look. He returns with the indians that had attacked them earlier - they are all Jemima and the Giant's children!
Returning to the farm, Black Mac is paid but he decides to take Jill as well. Jack challenges him to a duel and shoots the gun out of his hand.
All is well, the Widows marry the Sheriff and the Deputy, Jack marries Jill and everyone lives happily ever after.
OK That's it in a nutshell. There's lots left out
---
Widow Goldtop
Derek Leybourne
Widow Barleycorn
Mick Selley
Jack Goldtop
Vanessa Breach §
Jill Barleycorn
Jo Evans
Black Mac
Will Rawlings
Chief Sleeping Bear
Roddy de la Roza *
Sheriff
Helen Coleman
Billy the Kid
Simon Coleman *
Giant Blunderbore
Tony Robinson
Jemima, his housekeeper
Jan Treacher-Evans
Daisy the cow
Pauline Ure & Maggie Tarpey
Ghost
Brian Simmons
The Chickentails
Claire Carrig, Charlotte Selley, Rebecca Savage, Megan Treacher-Evans
| | |
| --- | --- |
| Farmhands and Cowgirls | Jo Banbury, Sue Bradley, Sue Calvert, Claire Carrig, Lesley McCarthy, Glenys Muscato, Sarah Newman, Charlotte Selley, Maggie Tarpey, Megan Treacher-Evans, Pauline Ure |
| Junior Chorus | Blair Anderson, Amy Bowers, Holly Coleman, Robyn Coleman, Amy Darnbrook, Christine Frank-Schultz, Emily Hancock, Grace Jenner, Mikala Leybourne, Daniel Robertson, Rebecca Savage, Joseph Tikaram |

§ Vanessa took over the role of Jack after the 1st Dress Rehearsal as Jackie Courtnage was indisposed.

* indicates debut (Simon Coleman appeared in the previous two Summer Shows, this is his Panto debut)

Piano
Chris Booth
Drums
John Courtnage
Director
Vanessa Breach
Choreography
Vanessa Breach,
Jo Evans, Claire Carrig
Stage Manager
Ray Breach
Backstage Crew
Dave Evans, Alan Jordan, Kevin Stephenson, Bryan Jackson, Caroline Stephenson, Therese Jordan
Lighting Crew
Kevin Carrig, Ben Lawrence, Matt Carrig
Scenery Design
Dave & Sue Bradley, Dave Evans
Props
Christopher & Sally-Anne Turner
Make-up
Mandy Godridge, Julie Jenner
Wardrobe Mistresses
Vera Frank-Schultz, Mary West, Wendy Evans
Wardrobe Assistants
Jennie & Kathleen Adams, Ruth Savage, Jeanette Finch, Nancy Selley
Chorus Mistress
Sue Calvert
Continuity Lady
Linda Gibbs
Dressing Rooms
Jennie Adams, Julie Jenner, Kathleen & William Adams
Poster & Programme Design
Murzi Design
Front of House
Mary Braich & Friends
Refreshments
Sue Knight & Friends
---
---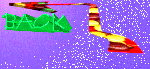 Top of Page
All pages are İMAD Productions 1998-2007
Email
12 February 2007