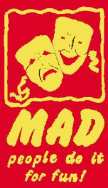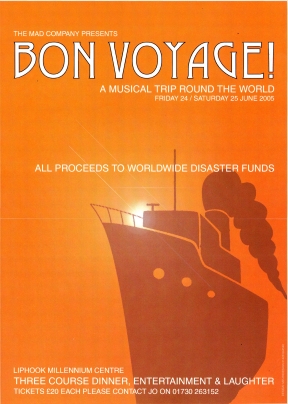 BON VOYAGE!
Bon Voyage was staged in the Millennium Hall on Friday 24th and Saturday 25th June 2005. Its original purpose was to raise funds for the tsunami appeal but after a meeting, it was decided to donate the funds raised to one specific project.
It took the form of a voyage starting immediately after the end of the panto when all the cast were depressed and out of work and were overjoyed to get jobs on a cruise ship. The ship captained by Steve Tarpey sailed around the world with songs and sketches old and new.
During the three intervals, the audience was served with a excellent three-course meal by Dave McCoy.
It was a hugely enjoyable evening and raised a considerable sum of money as well.
---
Picture from the Show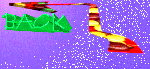 All pages are İMAD Productions 1997-2006
Email
1 February 2006