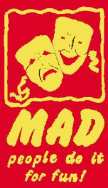 See No Evil, Hear No Evil,...
See No Evil, Hear No Evil,... was staged at the Millennium Hall on Friday 21st and Saturday 22nd June 2002.
---
See No Evil, Hear No Evil,... A very warm welcome to a completely new venture for the MAD Company - a Murder Mystery play !
Conceived and written by our own Steve Tarpey and Liz Cable and guaranteed to keep you guessing until the end - well that's the aim anyway.
We will take you through the death of Charles Hardy and the events in the weeks leading up to it. Then it is your turn to work ! You will have 20minutes to solve the crime before all is revealed in the final act.
Remember, all is not necessarily as it seems .....
---
Prolgue
As you enter the theatre, a body lies on the stage. The body of Charles Hardy, co-owner of HPS Galeries, Hardy Penton-Smythe Galleries.
Let us see how he died......
It is a show at the Gallery, the first showing of paintings by Richard Trueman, mute since birth.
At the show are Charles's business partner, David Penton-Smythe and his wife Kate.
David used to run his own Gallery with his wife, until an unfortunate incident involving forgeries and a fire .... Charles bailed him out ... and doesn't stop reminding him of it. Kate, relegated from co-owner to, well, general factotum, working for a man who wouldn't know a good painting it it bit him, broods and pesters David to get her a partnership, something that Charles will not hear of.
Also there - Charles's wife, Elizabeth and her sister Dorothy. Charles treats them both appallingly. Elizabeth scarcely notices but beneath her calm, dotty exterior, Dorothy does.
The good Doctor Jacob Chalmers- life long friend to Charles as well as his physician - but what was behind that hurried exchange as they toured the exhibition ?
Finally, Richard Trueman. His career has been nurtured by Elizabeth - for it was she who discovered him in the hostel for down and outs. But has the nurturing led to anything more ?

Suddenly, Charles gasps, half falls, points to Richard - I know what you did .... you won't get away with it! and falls. Dead.
There were six people there when Charles died. All six had some motive for his death. Most had expressed threats, wishes, thoughts of Charles's death. But who actually did it. And how, in a room full of people, was it done ?
Over the course of the evening the plot unfolds. We learn of David's previous gallery and the bailing out. Elizabeth's resentment. Dorothy, green fingered Dorothy, how she grows such plants with just the aid of a small laboratory in the potting shed.... We see the smouldering fire between Richard and Elizabeth, and as it unfolds the future looks darker and darker for Richard.

Finally, in the tradition of all good detective stories, Detective Sargeant Sally McDonald explains all and unmasks ... who ?
If you were there, you know who. If you weren't ... well maybe we'll do it again one day so I'm not going to give it away!
ACT I
ACT II
Scene 1
The Richard Trueman exhibition, HPS Galleries
Scene 1
The Hardy residence. Charles and Elizabeth's Anniversary.
Scene 2
Four weeks earlier. The Hardy residence.
Scene 2
Richard's Studio/David's Office.
Scene 3
Richard's Studio.
Scene 3
The Hardy residence. A few days later.
Scene 4
?
Finale - the Gallery
---
Narrator
Jackie Bruce
Detective Sergeant Sally McDonald
Jackie Bruce
Charles Hardy, co-owner of HPS Galleries
Tony Robinson
Elizabeth Hardy, his wife
Mandy Godridge
Dorothy Madley, Elizabeth's sister
Ruth Savage
David Penton-Smythe, co-owner of HPS Galleries
Mick Selley
Kate Penton-Smythe, his wife
Jan Treacher-Evans
Richard Trueman, painter, mute
William Rawlings
Dr Jacob Chalmers, Charles's friend
Richard Merriman
A policeman
Christopher Turner
| | | | |
| --- | --- | --- | --- |
| Director | Steve Tarpey | Writers | Steve Tarpey & Liz Cable |
| Lights | Kevin Carrig & crew | Makeup | Julie Jenner |
---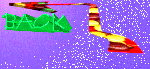 All pages are İMAD Productions 1997-2006
Email
29 December 2005